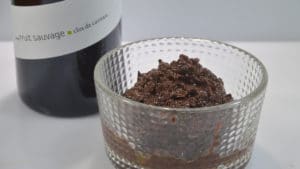 Recipe for Tapenade de Nyon and blackberries
Recipe for Tapenade de Nyon and blackberries 10 people:
Ingredients
200 g olives from Nyon
1 tablespoon chopped parsley
1 teaspoon of capers
3 anchovies in oil
Zest of an organic lemon
6 tablespoons of olive oil
8 large blackberries
1 clove of garlic
Instructions
Peel the garlic.
Roughly chop the Nyon olives with a knife.
Roughly chop the capers with a knife.
Roughly chop the blackberries with a knife.
Roughly cut the anchovies with a knife.
Mix the olives, anchovies, parsley and capers in jerks, so that the dough goes down to the bottom of the mixer.
Squeeze the garlic.
Season with pepper and gradually add the oil while mixing until desired consistency is achieved.
Add the blackberries and mix again.
Reserve in the refrigerator.
Preparation time: 30 minutes
Cooking time: 0 minutes
Number of people: 10
4 star rating: 1 review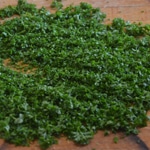 Chop the parsley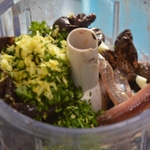 Chop all the ingredients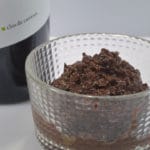 What wine to drink with: Tapenade de Nyon and blackberries
My favorite wine for this recipe: Vacqueyras cuvée Wild fruits Grapes Grenaches and Syrah
Temperature between 16 ° and 17 °
Partnership with the Clos du caveau in Vacqueyras in the Vaucluse
A thought to all those connected from France or abroad in love with French cuisine and its wines, here is a great opportunity for you to buy a quality wine, without any risk, to accompany my recipe for Tapenade de Nyon and blackberries. I selected this Vacqueyras cuvée Wild Fruits from the Clos du Caveau estate after tasting it, I was overwhelmed by a feeling of happiness.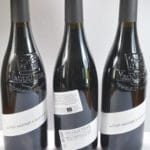 Bottles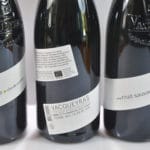 Zoom
Vacqueyras Cuvée wild fruits
A very harmonious wine as powerful as it is fine, already the flow in the glass calls out to you from the first drops. We immediately smell a full-bodied wine with a lot of character. They say that the mistral dries up all the humidity and you get such a concentration that it explodes with the first sip, frankly we all loved this wonderful vintage.
Clos du cellar
1560 cellar path
94190 Vacqueyras
Phone: 04 90 65 85 33
Email: domaine@closdecaveau.com </p