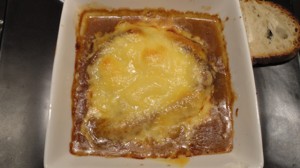 Recipe: Onion soup
Onion soup to start a meal, but also onion soup to end an evening. Recipe onion soup au gratin in the oven for the pleasure of all, it arrives with bad weather, comfort of the days too cold. Old fashioned French onion soup, a nice slice of bread in the bowl to keep the county from dripping into the soup. Easy onion soup recipe, for the less courageous you can use frozen onions that are a little harder to grill. Onion soup recipe au gratin one of my favorite soups, an onion soup a low budget soup.
Recipe ingredients
Recipe Onion soup for 4 people:
5 onions
1 full spoonful of flour
Salt and pepper
1 liter of water
1 tablespoon of olive oil.
Instructions
Peel the onions, then cut them into small pieces
Heat a cast iron casserole dish with olive oil.
Brown the onions under a not too strong fire.
Let the onions brown well, but without burning them.
Add a tablespoon of flour and let the flour toast, stirring all the time so that it does not burn.
Wet gently with a little water and dilute the toasted flour.
Add the rest of the water, stirring to combine well.
Salt and pepper
Leave to cook and reduce for 30 minutes.
Mix the soup if you have children and then shhh (don't say anything, they will devour it)
Toast 4 slices of country bread with coarse crumb.
Pour the onion soup into oven-safe bowls.
Place the toasted slice of bread and the sliced Comté cheese on the soup.
Brown for a few minutes on the grill.
Serve this soup very, very hot.
Preparation time: 20 minutes
Cooking time: 30 minutes
Number of people: 4
4 star rating: 1 review
What wine to drink with Onion soup
My favorite wine for this recipe: Roussette de Savoie Cépage Altesse (Roussette)
Temperature between 8 ° and 10 °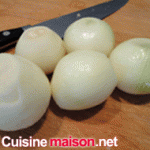 Peel the onions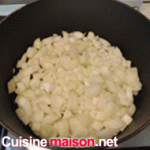 Grill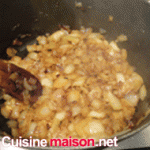 Let it brown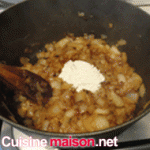 Add flour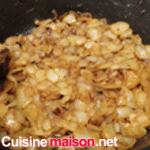 Brown the flour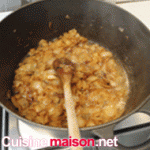 Wet gently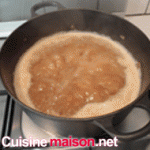 Let reduce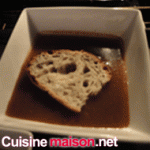 Ready to gratinate