Salmon and Parmesan Lasagna Recipe
Lasagna with salmon, a smooth complete dish with good flavors. With homemade pasta you enhance this dish, no need for a machine to make a little dough for the lasagna, even if they are a little thick, the dough will swell with flavor and you will love it. I particularly like working with salmon, it lends itself perfectly to this kind of achievement. Salmon and Parmesan Lasagna
Ingredients
Salmon and Parmesan lasagna recipe for: 8 people
4 salmon steaks
6 tomatoes
4 leeks
250 gr of mascarpone
2 eggs
20 cl of fresh cream
30 gr of butter
3 tablespoons of olive oil
½ teaspoon white pepper
10 cl of white wine
100 gr of parmesan
Thyme
For the lasagna
300 gr of flour
3 eggs
1 tablespoon of olive oil
Ingredients
Preheat the oven to 180 °
The dough for the lasagna
Mix the flour, the 3 eggs and the olive oil, knead so that your dough becomes a ball.
Enclose it in cling film tightly and let it rest.
If you don't want to make your dough, take some re-baked lasagna.
After an hour, go to rolling mill n ° 4.
Flour the plates well so that they do not stick together.
Place baking paper and the salmon steaks on a baking sheet.
Season with salt and pepper.
Add the thyme, cook in the oven at 200 ° for 10 minutes.
Wash and mince the leeks, keeping only the white and tender part of the leek.
Listen to the leeks.
Heat a pan with a little olive oil.
Sear the leeks, covering them until they are tender.
Salt and pepper..
In a bowl, mix the beaten eggs, the crème fraîche and the mascarpone with ½ teaspoon of white pepper.
Crumble the salmon and mix with the preparation.
Start assembling the lasagna.
Already a layer of preparation then a layer of lasagna (be careful they must not be superimposed).
A layer of preparation, parmesan.
Once in three a layer of tomato.
Continue until the preparation is exhausted.
Place in the oven at 180 ° for 45 minutes.
Do not let the tops of your lasagna brown, you can cover them if the need arises.
Preparation time: 60 minutes
Cooking time: 45 minutes
Number of people: 8
4 star rating: 1 review
What wine to drink with: lasagna with salmon and parmesan
My favorite wine for this recipe: Côtes-du-rhône (red) Grape varieties: Cinsault, Grenache noir, Mourvèdre, Syrah
Temperature between 14 ° and 16 °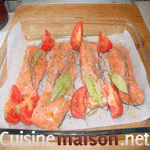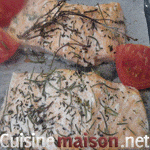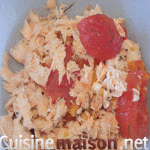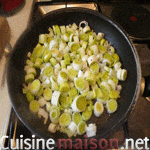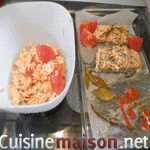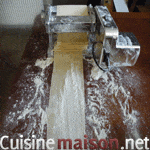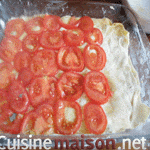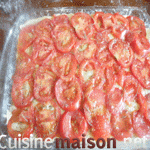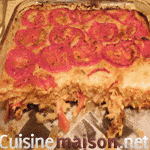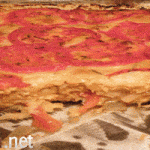 </p