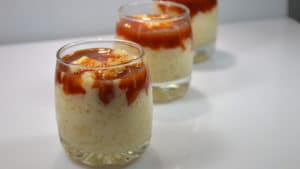 Rice pudding and salted butter caramel recipe
Summary : An easy dessert, long rice cooked slowly in milk, it must remain soft and deliciously flavored. The salted butter caramel sauce really brings a plus, tasted in small doses with the rice it leaves a wonderful taste in the mouth. We tasted the Rice pudding and salted caramel with Kiki my brother, he is very fond of this kind of dessert. Children also love rice pudding, I had prepared it the day before and reserved without putting it in the refrigerator, so that it remains very soft, of course the milk has been completely absorbed. With my rice pudding and salted caramel, we drank a crémant du Jura, not too fresh.
Salted butter caramel rice pudding recipe for 3 people
Ingredients :
90 g long rice
30 cl of milk
15 cl of liquid cream
90 g sugar
1 egg yolk
Salted butter caramel
90 gr of caster sugar
40 gr of salted butter
8 cl of 33% fluid cream
Instructions
Rinse the rice with water.
Heat a large volume of water.
Immerse the rice in the boiling water for 2 minutes.
Once cooked, rinse the rice under running water.
Heat the milk with the cream.
Add the sugar.
Pour the rice as soon as the milk boils.
Stir occasionally with a wooden spoon.
Cook for 50 minutes.
Add the egg yolk.
Turn off the heat, cover.
Prepare the salted butter caramel
Heat the sugar to dryness in a saucepan on a large bottom.
Stir with a wooden spoon, incorporating the sugar still in crystals.
Gradually add the very cold cream to the melted caramel.
Stir in the cold butter in small pieces off the heat.
Pour the caramel over the rice.
Leave the caramel to cool in the refrigerator for half an hour.
Preparation time: 20 minutes
Cooking time: 50 minutes
Number of people: 3
4 star rating: 1 review
What wine to drink with: Rice pudding and salted butter caramel
My favorite wine for this Crémant du Jura Grape variety recipe: Savagnin blanc and Chardonnay
Temperature between 8 ° and 10 °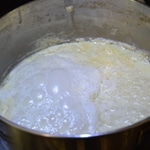 Cook the rice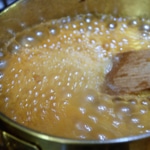 Prepare the caramel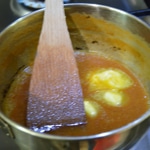 Add the butter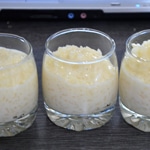 Rice in the verrines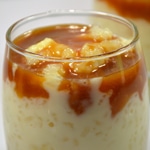 Zoom