Recipe: Oxtail
Oxtail recipe, this dish cooks like beef stew. I served this oxtail like an oxtail. In the evening, a beef soup, this completely defatted homemade broth accompanied by small pasta, they accompanied this divine broth. My jellied oxtail served cold.
Recipe ingredients
Oxtail recipe for 4 people:
2 oxtails,
1 calf's foot cut in half,
500 g of side dish
1 bone marrow
4 carrots,
1 teaspoon of fennel seed
1 slice of ground cloves
1 half teaspoon of cumin
1 large turnip,
1 large onion studded with 2 cloves,
2 small leeks,
1 stalk of celery,
1 bunch of parsley
5 sprigs of thyme
10 bay leaves),
1 tablespoon of coarse salt
10 peppercorns,
Instructions
Sear the oxtails, veal trotters and the side dish.
wash the vegetables then peel them.
Place the vegetables in a large Dutch oven
Add the meats the bunch of parsley.
Tie the thyme with string.
Season with salt and pepper.
Cover with water and bring to a boil.
Skim regularly in order to recover all the impurities.
Lower the heat and simmer for at least 4 hours.
Take the ingredients out of the broth and separate the vegetables from the meats.
Reduce the filtered broth to obtain a syrupy liquid which will constitute the jelly.
Separate the oxtail meat from the bones.
Get rid of fatty parts and cartilages.
Cover the inside of the terrine with cling film, overflowing widely.
Assemble the terrine, alternating meat, carrots.
Pour in the lukewarm jelly.
Finish with a layer of meat and a ladle of jelly, smooth the surface.
Fold back the film to enclose the terrine. Place in the refrigerator for at least 24 hours.
Preparation time: 30 minute (s)
Cooking time: 4 hour (s)
Number of people: 8
4 star rating: 1 review
What wine to drink with Oxtail
My favorite wine for this recipe Châteauneuf du pape (Red) Grape varieties: Grenache noir, Mourvèdre, Syrah
Temperature between 15 ° and 16 °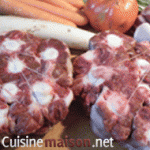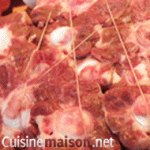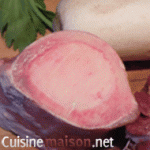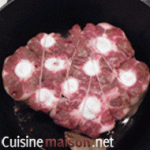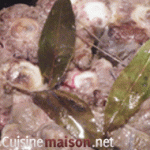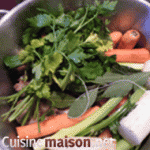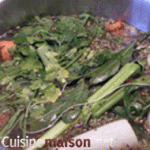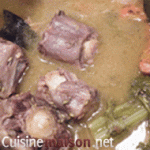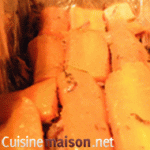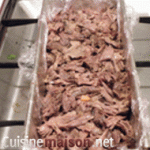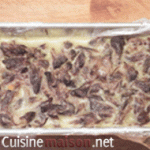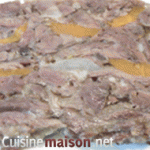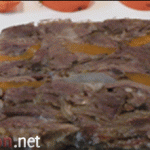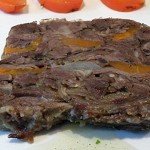 </p