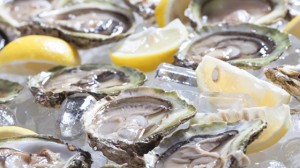 There are hundreds of kinds of oysters. They belong to the Ostréidae family and are divided into two groups: The flat and the hollow.
4.7 million tonnes are consumed each year
150 million dozen oysters are consumed in France per year
The oyster-producing countries in the world:
The main producing countries are: China, South Korea, Japan, France, Ireland, Spain, Portugal… ..
France is the leading producer, consumer and exporter of oysters in Europe, with 150,000 tonnes produced per year. Almost half of this national production is consumed during the holidays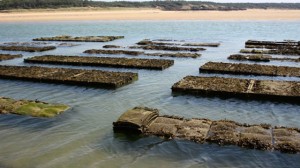 For France the major regions
Arcachon oysters:
Taste: crunchy, slightly salty
Available all year round
(Origin for export to Thau, Marennes, Normandy, Spain, Ireland)
Brittany oysters:
Taste: pleasant salty with a slightly sweet aftertaste
Available all year round
La Cancal, La Paimpol, the river of Tréguier, La Morlaix, La nacre, Aven Belon, La Quiberon, L'apernerf, La cancalaise.
Charente Maritime oysters:
Soft and round taste with a slightly sweet aftertaste
Available all year round
Marennes d'Oléron. The fine clear, the fine clear green, The Special of clear, The Special grows in clear
Oysters from Languedoc Roussillon:
Taste: unmistakable more muscular and less salty taste
Available all year round
Bouzigues, Loupian, Mèze, Marseillan, Sète sites.
Normandy oysters:
Taste: Nutty and intense salty
Available all year round
Cru D'Isigny, Crue de Saint Vaast-la-Hougue
Corsican oysters:
Diana pond and Urbrinu oysters

Choosing the right oysters
Where to buy the oysters:
At the market
In supermarkets during the end of the year periods
On the Internet (beware the shipping costs are quite heavy and vary according to the sender, but here you have top type products)
How to find your way around the numbers:
Here are the average oyster weights, a visual solution to fully understand the numbering.
| | | |
| --- | --- | --- |
| Number | Hollow oysters | Flat oysters |
| 6 | 20 g | |
| 5 | 30 to 45 g | 30 g |
| 4 | 46-65 g | 40 g |
| 3 | 66 to 85 g | 50 g |
| 2 | 86 to 110 g | 60 g |
| 1 | 111 to 150 g | 70 g |
| 0 | > 151 g | 80 g |
| 00 | | 90 to 151 g |
| 000 | | 100 to 120 g |
Conservation of the oyster:
Oysters keep perfectly in their original basket. Otherwise, store them flat, hollow with the shell down and store them in a ventilated and cool place (5 ° to 15 ° C): the refrigerator's vegetable drawer, but also the cellar, window sill or balcony ( avoiding direct exposure to the sun and negative temperatures).
Thus stored, they will keep all their freshness for several days.

Some tips:
When buying, you should be particularly vigilant about the freshness of the oysters. Indeed, sold alive, it is a fragile product. Most oysters are bought in a basket with a packing date on it. You can keep them, in their packaging, for one week from this date.
Traditionally, oysters are eaten raw, plain or just spiced up with a drizzle of shallot vinegar, served with slices of buttered rye bread.
Never soak oysters in a bath of clear water
Open them as close as possible to the time of tasting.
A fresh oyster must bathe in its water.
Be careful when the oysters are milky, it's summer (May, June, July and August)
Recipes with hot oysters
Hot oysters au gratin
Hot oysters with cider
Hot oysters in Monbazillac
Hot oyster with cranberries
Hot oysters with champagne
Hot oysters in red wine
Hot oysters with vegetables
Hot oysters with sabayon
Hot oysters with snail butter
Hot oysters au gratin
Hot oysters with green asparagus
Hot oysters with cider
Hot oysters with Savagnin
References :
http://www.marchant-mosselen.be/documents/schelpdieren/soorten-oesters.xml?lang=fr
http://fr.wikipedia.org/wiki/Hu%C3%AEtre
http://maitrequeux.free.fr/Huitres/huitres.htm
http://www.restocours.net/Bac2/Fiche%20Produit/huitres.pdf </p