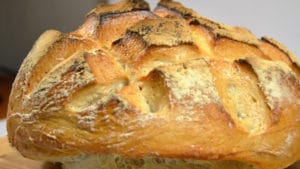 La loaf recipe
The homemade bread we love at home, we test all the recipes in my book, it is exceptional in quality and explanations. Nice slices of fresh bread, of course at the beginning we would tend to eat a little more, because it is so good. Its colors and its smell cannot leave anyone indifferent, its slightly crispy crust will crack under your teeth, leaving you with great happiness. The loaf is surely one of the easiest loaves to make, no need for professional technique, just to check that your preparation is not too fluid, it must be held well in order to inflate in height. You will love this loaf bread recipe.
Recipe for a loaf of approximately 920 gr:
Ingredients
500 gr of wheat flour type 65
350 gr of water at 20 °
100 gr of liquid sourdough
2 gr of fresh baker's yeast
10 gr of salt
Instructions
Preheat the oven to 230 °, after placing the rack in the low position.
Prepare your liquid sourdough
Add all the ingredients to the mixer bowl fitted with the hook.
Mix 4 minutes at low speed, then mix again 6 minutes at high speed.
Flour the work surface.
Form a ball and let it grow for 1 hour 30 minutes near a heat source. Under a damp cloth.
Place the ball on the center of your plan, previously floured.
Bring the edges back to the center, pushing the air out slightly.
Turn the dough over, and slide the edges back below the dough.
Form a nice even ball on a floured baking sheet, with the solder underneath.
Cover with a damp cloth.
Let it grow for 2 hours near a heat source.
Place the ball on a baking sheet covered with a sheet of baking paper.
Lamer of 6 lines.
Bake in the hot oven for 45 minutes.
At the same time, pour 5 cl of water into the bottom plate, close the oven door.
Preparation time: 10 minutes
Cooking time: 45 minutes
Number of people: 6
4 star rating: 1 review
What wine to drink with: The loaf
No particular wine with this recipe, because it is the dish that will define the wine.
Source: Le Larousse du pain by Eric Kayser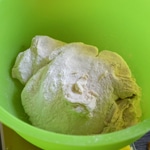 Ready-to-rise dough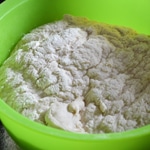 Raised dough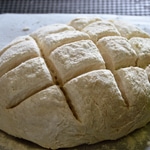 Cut the loaf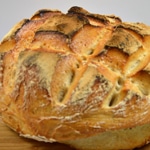 Cooked loaf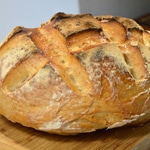 Zoom