Recipe: Palm tree with chorizo
Palm tree chorizo recipe, these little puff pastries were a real killer, they didn't last long on the table. Choosing a quality dough, it is the village baker who supplied it to me. The chorizo goes wonderfully with the puff pastry, the fat of the chorizo makes and perfumes the puff pastry, be careful not to overcook them. Palm tree with chorizo to start a meal, they are really good all hot.
Recipe ingredients
Recipe of Palm tree with chorizo for 20 pieces:
1 chorizo
100 g of Comté in pieces
1 roll of puff pastry
1 teaspoon of poppy seeds
1 egg yolk
Instructions
Cut the chorizo into small cubes.
Mix the chorizo with the Comté.
Cut the puff pastry into a rectangle.
Locate four equal strips on the puff pastry.
Spread the chorizo preparation evenly over the two central strips.
Fold the two outer strips over the chorizo stuffing to make a rectangle.
Fold the two rectangles to get a rectangle a quarter of the first.
Leave to rest in the refrigerator for an hour, so that it is very cold.
Brush the egg yolk.
Sprinkle with the poppy seeds.
Cut the rectangle into ends, 6 to 8 millimeters and place on baking paper.
Place in a hot oven at 200 ° for 10 to 12 minutes.
Serve immediately.
Preparation time: 20 minutes
Cooking time: 10 to 12 minutes
Number of rooms: 20
4 star rating: 1 review
What wine to drink with: Palmier au chorizo
My favorite wine for this recipe: Cahors Cépage Cot noir, merlot; Tannat
Temperature between 14 ° and 16 °
Thanks to Thibaut and Janos for the wonderful photos, memory of a long weekend at Easter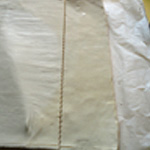 Cut the dough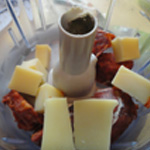 Mix the county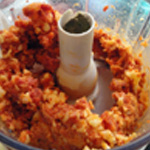 Mix the chorizo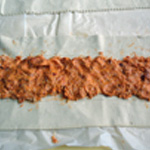 Distribute the preparation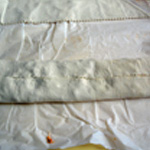 Fold the 2 edges
Fold again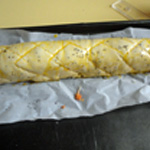 Brown with egg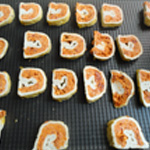 To slice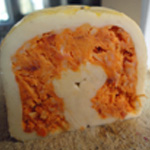 Zoom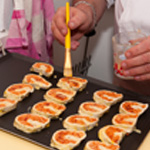 Brown the sides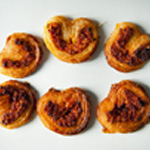 Ready to consume