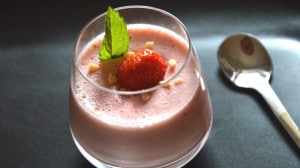 Recipe: Strawberry Pana Cotta
Strawberry pana cotta recipe, dice the first strawberries on the market shelves, but especially with the first which are not yet the tastiest, I take this opportunity to make a strawberry pana cotta. It's a bit like our way of celebrating the arrival of good weather, strawberries at home, we eat them in all forms, raw or cooked, it doesn't matter. But when the weather is hot and after a nice meal, the strawberry pana cotta is always welcome.
Recipe ingredients
Pana cotta recipe for 10 people
1 kg of strawberries
60 g icing sugar for the cream
10 g icing sugar for the coulis
50 cl of 30% fluid cream
2 g of agar agar
Instructions
Rinse the strawberries with plenty of water, remove the green part.
Reserve the 10 most beautiful strawberries for decoration.
Mix the rest of the strawberries with the icing sugar.
Bring the fluid cream to temperature, from the first broth.
Add the agar agar, return to temperature, simmer for 1 or 2 minutes.
Let the cream cool, then add the mixed strawberries.
Mix well then pour into the verrines.
Leave to rest in the refrigerator overnight.
Just before serving put a nice strawberry and prick a mint leaf in each verrine.
Preparation time: 15 minutes
Cooking time: 0 minutes
Number of people: 10
4 star rating: 1 review
What wine to drink with: Strawberry pan cotta
My favorite wine for this recipe: Champagne Premier Cru (White)
Temperature between 8 ° and 9 °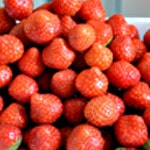 Rinse the strawberries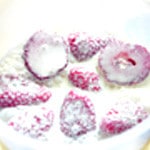 Heat with the cream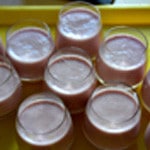 Pour into the verrines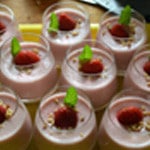 Place a strawberry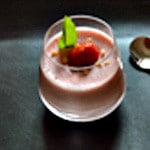 Zoom