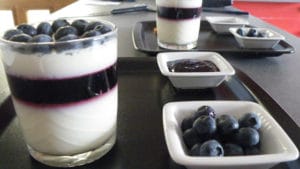 Blueberry Panna Cotta Recipe
Blueberries I love when they hit the shelves in our markets. Blueberry dessert a colorful dessert blueberries are very generous, they color everything they touch. Panna cotta with white chocolate, it lends itself very well to games and softens the panna cotta with red fruits, here the ideal marriage with this panna cotta with blueberries and white chocolate. Of course if you have the change of living in the Vosges, all you have to do is equip yourself with a comb and a lot of courage to collect wild blueberries, your blueberry panna cotta will only be better. .
Blueberry panna cotta recipe for 4 people
Ingredients :
400 g blueberries
60 g icing sugar for the cream
10 g icing sugar for the coulis
80 g white chocolate
40 cl of 30% fluid cream
1 tablespoon of white rum
2 gr of agar agar
Instructions
Rinse the blueberries with plenty of water, reserve the most beautiful blueberries for decoration.
Mix the rest of the blueberries.
Add the icing sugar and mix again to incorporate the sugar.
Bring half of the fluid cream to temperature, from the first broth add the agar agar and remove from the heat.
Break the white chocolate and put it in the saucepan with the hot cream.
Allow the chocolate to melt slowly.
Mix well then pour into your verrines and let cool
Add once to cool the blueberry coulis.
And repeat the operation with the crème fraîche for the third level of your verrine.
Let cool then put in the refrigerator.
Just before serving, place the selected blueberries on your verrine.
Preparation time: 20 minutes
Cooking time: 0 minutes
Number of people: 4
4 star rating: 1 review
What wine to drink with: Panna cotta with blueberries
My favorite wine for this recipe: Champagne Premier Cru (White)
Temperature between 8 ° and 9 °