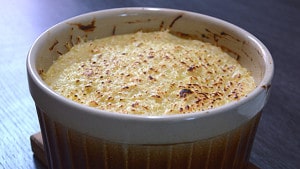 Recipe: Parmentier corn and chicken
Corn and chicken Parmentier recipe; I still had smoked chicken and I know that my daughter doesn't really like me, however, I adore those that are well smoked. And I had seen on a site at a friend's house a mashed potato and corn half, I immediately loved the principle. Unfortunately despite all my precautions I cannot find his contact details. So if she recognizes herself, thank you for giving me a little sign. This mash was delicately flavored with the smoked chicken and the corn had softened the mash, frankly this Corn and Chicken Parmentier deserves your full attention, it was delicious and we loved it.
Recipe ingredients
Corn and chicken Parmentier recipe for: 4 people
800 gr of potato
½ smoked chicken
½ bunch of flat-leaf parsley preferably
2 onions
300 g canned corn
5 tablespoons of cream
1 tablespoon of olive oil
Salt and pepper
Instructions
Heat the oven to 180 °.
Peel then cut the potatoes into small cubes
Cook the potatoes in a large volume of boiling water for 12 to 15 minutes.
Completely bone ½ chicken.
Cut it roughly with the skin.
Salt and pepper.
Peel and roughly chop the onions.
Heat the oil in a pan.
Add the minced chicken, parsley and onions, leave to grill a little.
Pass everything through the chopper with the large grid.
Grind the cooked potatoes with the corn, gradually add the liquid cream.
Butter the dish.
Start with a layer of corn mash.
Then a layer of meat.
Finish with a layer of corn mash.
Sprinkle with the Emmental.
Place in the oven for 30 minutes.
Preparation time: 30 minutes
Cooking time: 30 minutes
Number of people: 4
4 star rating: 1 review
What wine to drink with: Parmentier of corn and chicken
My favorite wine for this recipe: Beaujolais village grape gamay
Temperature between 11 ° and 12 °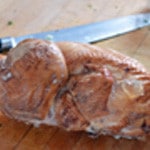 Boneless smoked chicken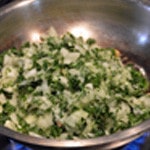 Chop parsley and onion
Sear the chicken
Cook the potatoes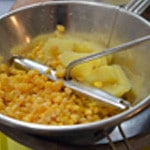 Squeeze the mash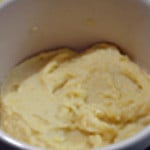 Ready mash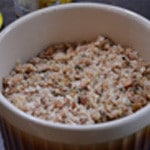 A layer of meat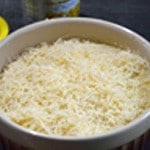 A layer of cheese