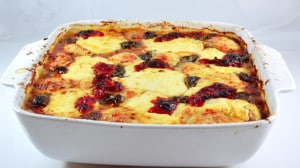 Recipe: Raw ham lasagna
Recipe for lasagna with raw ham, I bought a raw ham heel, it's ideal for this kind of dish, the ham divinely perfumes the lasagna. I like to make my lasagna with peeled tomatoes that I let more or less reduce. Lasagna with raw ham to change from the classic bolognese. At home it's always a party for a new lasagna recipe, but be careful, children don't give gifts, they are formidable as tasters …….
Recipe ingredients
Recipe for lasagna with raw ham for 12 people:
500 g of flour for the dough
5 eggs
1 tablespoon of olive oil
3 onions
3 cloves of garlic
250 g basil
15 cl of white wine
1 teaspoon of paprika
500 g of veal
1 kg of beef
500 g of raw ham
250 g of mozzarella
15 cl of heavy cream
1 can of peeled tomatoes.
1 Jar of Sun-Dried Tomatoes
Instructions
Peel and cut the onions into small squares.
Heat a pan with olive oil, then add the onions, let barely color.
Peel and finely chop the garlic, then add it.
Add the white wine.
Add the can of peeled tomatoes.
Add the basil.
Simmer for an hour, covering.
Meanwhile, make the lasagna dough and let stand for half an hour.
Roll the dough in several times so that it is elastic, I rolled up to number 5
Chop the beef and veal, season with salt and pepper.
Chop the heel of raw ham.
Mix the meats and add the paprika.
Mix a go to remove the pieces of tomato and onions.
Mix the meats with the crushed tomatoes.
Assemble the lasagna, starting with a ladle of béchamel and a ladle of bolognese.
Arrange the lasagna sheets, then the bolognese.
Repeat until all the bolognese are used up.
Place thick cream dumplings on the lasagna.
Cut the mozzarella and place on top of the lasagna.
Sprinkle with sundried tomatoes cut into strips.
Finish with a few basil leaves.
Place in a hot oven at 160 ° for 45 minutes.
Preparation time: 1 hour (s)
Cooking time: 45 minutes
Number of people: 12
4 star rating: 1 review
What wine to drink with: Raw ham lasagna
My favorite wine for this recipe: Mâcon Supérieur Grape Gamay
Temperature between 14 ° and 16 °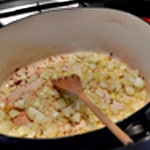 Sear the onions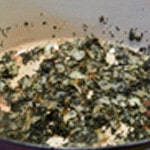 Add the herbs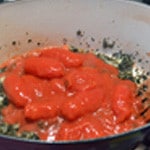 Add the peeled tomatoes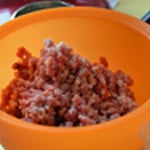 Chop the ham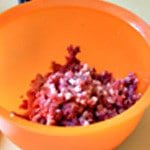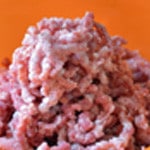 Salt the meat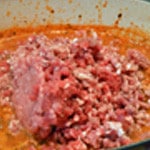 Add to tomato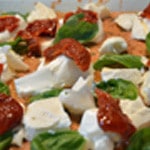 Ready to cook<img src="/wp-content/uploads/2021/09/414466095481223183.jpg" class="aligncenter"