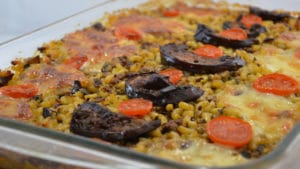 Recipe Pasta and eggplant gratin
pasta and eggplant gratin recipe, at home they are always welcome, I think we love them since our stays in Greece. So cooked with shells, you can imagine the rest. Gratins at home are often celebrated, I like these generous dishes that go well with cheese and here the spices. I chose mozzarella, of course I could have chosen a feta, but I wanted the creamy mozzarella to accompany my pasta gratin. A pasta gratin is never trivial with us, everyone brings their criticism during the tasting, in addition we rarely eat the same dish twice. He yes, life with the management of a cooking site requires a lot of research and testing. The shells are still the only ones that I have not managed to reproduce, so we have them all the time at home, they are of course our favorites.
Pasta and eggplant gratin recipe for 4 people:
Ingredients
4 beautiful eggplants
250 gr of shellfish
2 balls of mozzarella of 125 g
1 teaspoon of 4 spices
30 gr of butter.
Salt and pepper
Instructions
Heat the oven to 180 °.
Rinse the eggplants under the tap, then dry with food paper.
Cut the eggplants lengthwise then into cubes, reserving 5 nice slices.
Heat the pan with the olive oil.
Throw the eggplant cubes into the hot oil.
Add the slices to grill them.
Sprinkle with the spices, salt and pepper.
Cook for ten minutes, stirring regularly.
Cook the shells in a large volume of salted water.
Drain the shells and mix with the eggplants.
Butter a baking dish.
Pour in the pasta and eggplant.
Place the sliced eggplant in the middle of the dish.
Slice the mozzarella into rings, then distribute over the pasta.
Place in a hot oven for 30 minutes.
Preparation time: 20 minutes
Cooking time: 30 minutes
Number of people: 4
4 star rating: 1 review
What wine to drink with: Pasta and eggplant gratin
My favorite wine for this recipe: Chinon rouge Grape Cabernet Franc
Temperature between 16 ° and 17 °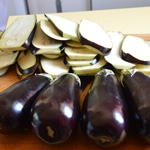 Slice the eggplants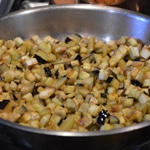 Sear the eggplants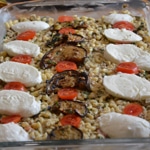 Slice the mozzarella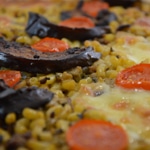 Zoom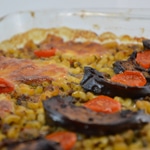 Baked gratin