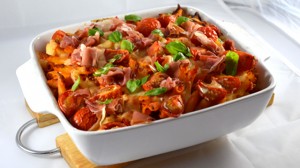 Recipe: Pasta gratin with ham
Ham pasta gratin recipe for an evening meal with the family, we love pasta at home, of course we have a preference for homemade pasta, but sometimes we don't have enough time. We test all the pasta recipes and especially the Italian recipes, I like to cook with fresh tomatoes, I like when they melt gently in the oven and flavor the pasta to death.
Recipe ingredients
Ham pasta gratin recipe for 4 people:
4 cloves of garlic
2 240g cans of tomatoes, peeled into pieces
400g macaroni
3 tablespoons of olive oil
15g butter
2 sugar cubes
100g of parmesan powder
200g parma ham
150g parmesan
300g cherry tomatoes
15 small basil leaves for decoration
Instructions
Cook the pasta in plenty of water.
Drain the pasta as soon as it is cooked and cool it under the tap.
Oil the pasta with two tablespoons of olive oil.
Peel the garlic then press it.
Heat a saucepan with the butter and a tablespoon of oil.
Sear the garlic pressed in hot oil.
Add the peeled tomatoes and let reduce for about 15 minutes.
Pour in the reduced tomatoes.
Pour in the paprika then stir.
Add the parmesan powder to the pasta then incorporate the cheese.
Cut the Parmesan into strips.
Cut the large cherry tomatoes into 4.
Butter the dish, then pour the pasta into it.
Scatter the Parmesan sticks and the tomatoes on the dish.
Place in a hot oven at 180 ° for half an hour.
Cut 3 slices of ham into a chiffonade.
share it on the baked gratin.
Preparation time: 20 minutes
Cooking time: 30 minute (s)
Number of people: 4
4 star rating: 1 review
What wine to drink with: Gratin of pasta with ham
My favorite wine for this recipe: Blaye rouge Grape variety cabernet Franc and Sauvignon, Merlot
Temperature between 15 ° and 16 °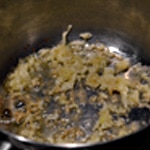 Sear the garlic squeeze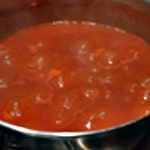 Add the peeled tomatoes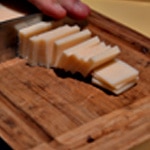 Cut the parmesan into sticks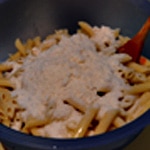 Add the parmesan grate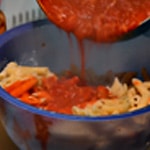 Pour the tomato sauce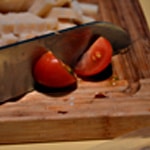 Slice the cherry tomatoes in 4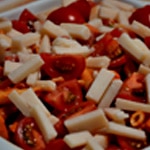 Place the cherries on the pasta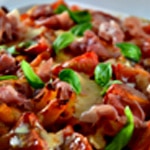 After cooking add ham and basil