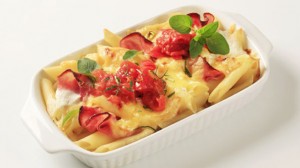 Recipe: Penne gratin
Penne gratin recipe for an evening meal, we love pasta gratins at home. Pasta Recipes I've been wanting to make a penne gratin for a long time, all simple, quick, but so good. Penne with Parmesan a marriage which cannot leave the amateurs of dough indifferent, just a little au gratin, here enhanced with sundried tomatoes and slices of Parma ham, a real killer. Simply good penne gratin, children love it.
Recipe ingredients
Penne gratin recipe for 4 people:
500 g of Penne
8 slices of Parma ham
200 g of Parmesan
200 g of Mascarpone
100 g of sundried tomatoes in olive oil
Instructions
Cook the pasta in a large broth of salted water, the minimum time indicated on the package about 10 minutes.
Filter the pasta through a colander.
Cool the pasta under the tap to stop cooking.
Separate the oil from the tomatoes.
Coarsely crush the tomatoes in oil.
Grate the Parmesan finely.
Lightly mix the pasta with the tomatoes and Parmesan cheese.
Add the mascarpone.
Butter a baking dish.
Place half of the Parmesan pasta in the dish.
Add the slices of Parma ham.
Add the rest of the pasta to the dish.
Sprinkle with Parmesan.
Place in a hot oven to brown the cheeses for 20 minutes at 180 °
Add the basil just before serving.
Preparation time: 20 minutes
Cooking time: 20 minute (s)
Number of people: 4
4 star rating: 1 review
What wine to drink with: Penne gratin
My favorite wine for this recipe: Pessac Léognan blanc Cépage Sauvignon; Semillon
Temperature between 09 ° and ° 11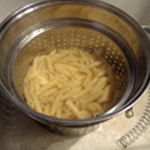 Cook the penne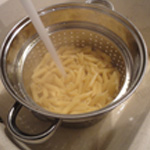 Cool the pinnae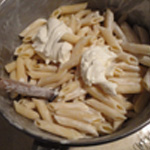 Add the mascarpone
Dried tomatoes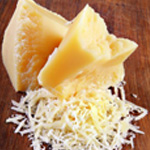 Grate the parmesan