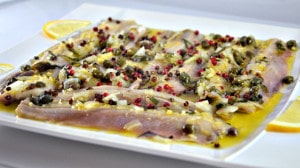 Recipe: Pickled herring
Recipe herring marinated for 3 days in the refrigerator, it was devilishly fragrant, I'm happy with my creation. Impossible not to see the fresh herrings on the bench of the Leclerc store, in addition they were at all costs, so no hesitation to test this new recipe which is based on flavors. Eating fish seems to be good for your health, here it will just be cooked in lemon, we loved it. A big thank you to the staff of Leclerc, who lifted the net for me and especially a person who will recognize himself.
Recipe ingredients
Recipe Marinated herring for 6 people:
700 gr of herring
1 lemon
½ small onion
1 teaspoon of red sechouan pepper
3 teaspoons capers
5 tablespoons of extra virgin olive oil
Instructions
Pull the fillets out of the fish or ask your fishmonger.
Rinse the fillets under running water.
Dry the fish with food paper.
Rinse and wash a lemon.
Place the fillets in a dish.
Pull the zest of a lemon directly over the fish.
Pour in the lemon juice and marinate overnight in the refrigerator.
Drain the fish fillets, then place in the dish.
Peel and finely chop the ½ onion on the fillets.
Sprinkle the red Séchouan pepper in the dish.
Place the capers on the fillets.
Season with fleur de sel.
Cover with olive oil.
Cover with cling film and marinate for 3 days at the bottom of the refrigerator.
Grill a few toast then hot garlic and serve the fillet on the toast.
Preparation time: 35 minutes
Cooking time: 0 minutes
Number of people: 6
4 star rating: 1reviews
What wine to drink with: Marinated herring
My favorite wine for this recipe: Chablis Cépage Chardonnay
Temperature between 08 ° and 01 °
A little thought for my dad, who had never eaten raw fish, and there it is, and he loved it.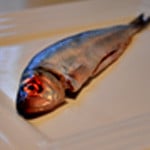 Rinse the herring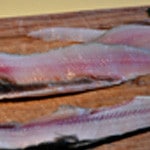 Lift the fillets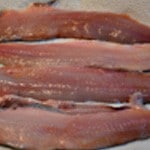 Tidy up the nets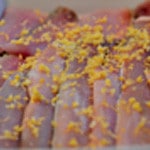 Zest the lemon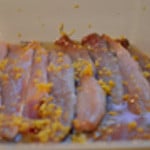 Add the lemon juice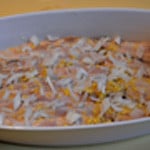 let rest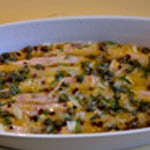 Add the herbs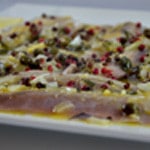 Zoom