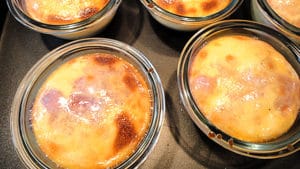 Prune Flan Recipe
Instructions
Recipe for Flan aux prunes, they are abundant this year and granny has several trees in her orchard. I like to collect prunes, which is often done under the sun in the late afternoon. Yes I like to pick them up when they're soaking up the sun all day. Of course for this prune flan recipe you can use Agen prunes, if you are not lucky enough to have a granny with a big orchard. Flan recipe, I love these quick little desserts to make with generous seasonal fruits. For this prune flan recipe with barely au gratin baking, I had programmed my oven to consume my dessert, which was still barely warm.
Recipe for prune flan for 4 people:
Ingredients
12 large prunes
20 cl of sour cream
1 egg
50 powdered sugar
Instructions
Rinse the prunes, then cut in half and arrange 3 prunes per verrines.
In a bowl, add the cream, then the egg and the sugar, mix everything well.
Fill your verrines.
Place in a hot oven 200 ° for 30 minutes.
Preparation time: 20 minutes
Cooking time: 30 minutes
Number of people: 4
4 star rating: 1 review
What wine to drink with: Flan aux prunes
My favorite wine for this recipe Red Arbois Grape variety: Poulsard, trousseau, pinot noir
Temperature between 11 ° and 13 °