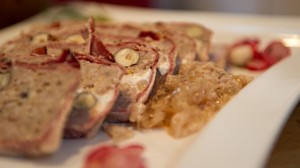 Rabbit Terrine with Hazelnuts Recipe
Recipe Rabbit terrine with hazelnuts dressed in raw ham, lightly flavored with hazelnuts and smoked with raw ham, a real killing this terrine. Rabbit terrine with hazelnuts baked in a bain-marie for 1 hour 30 minutes. You will find lots of terrine recipes on my site. Rabbit terrine with hazelnuts marinated with a white Rully.
Recipe ingredients
Recipe Rabbit terrine with hazelnuts for 8 people
1 rabbit (about 1.5 boneless)
500 g of throats
150 g of raw ham
3 bay leaves
3 sprigs of thyme
20 hazelnuts
50 cl of white Rully
5 cl of cognac
1 teaspoon of paprika
½ teaspoon of cumin
½ teaspoon of ginger
½ teaspoon of gray pepper
Salt
Instructions
Bone the rabbit, or have it done by your butcher.
Marinate the rabbit in a jar with the bay leaves, thyme and white wine, overnight.
Weigh the meat then salt it at the rate of 16 g of salt per kilo of meat.
Reserve a few bunny strips.
Chop the meat.
Add the spices, cognac, hazelnuts and mix well with your hands.
Line the terrine with the cured ham, barely overlapping the slices.
Half fill your terrine with the prepared stuffing, then place a few pieces of rabbit lengthwise.
Finish garnishing the terrine with the rest of the stuffing.
Cover the top of your terrine with the slices of raw ham.
Cook in a bain-marie for 1 hour at 160 ° C.
Let cool well before putting in the refrigerator.
Let your terrine rest for a week at the bottom of your fridge before tasting it.
Preparation time: 40 minutes
Cooking time: 90 minutes
Number of people: 8
4 star rating: 1 review
What wine to drink with: rabbit terrine with hazelnuts
My favorite Rully white wine; Chardonnay grape variety
Temperature between 11 ° and 12 °
Thank you to Rosabel de Vesoul store for its dishes
Thanks to Thibaut and Janos for their photos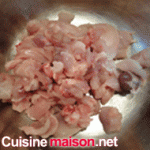 Boneless Rabbit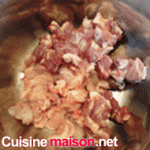 Add the bacon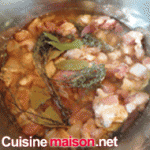 Marinate with the Rully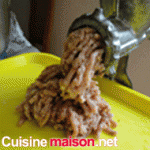 Chop the meat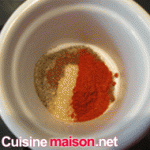 Add spices and salt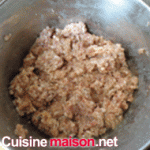 Mix the meat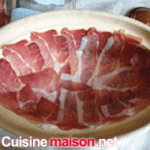 Cover the terrine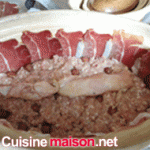 Add the stuffing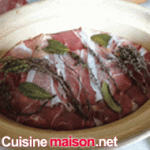 Cover with ham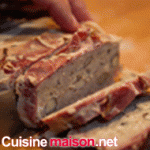 Slice the terrine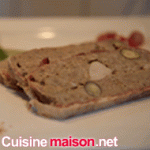 On a plate