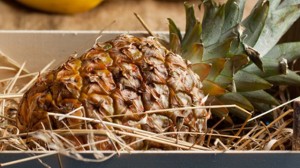 Recipe: Pineapple rum
Pineapple Rum Recipe For this liqueur recipe, I used white rum. This is the time when pineapples are not very expensive and we find ripe goods. The pineapple was very juicy, I collected the pineapple juice during the cut. Now there is nothing left since I have to wait for time to see its effect on my preparation of pineapple rum.
Recipe ingredients
Pineapple rum recipe for 0.75 l of liqueur
2 fresh pineapples
1 vanilla sugar
50 cl of white rum at 55 °
Instructions
Peel the pineapples.
Separate the body from the pineapple.
Slice the pineapple into 1 cm rounds.
Cut the pineapple slices into 8 wedges.
Place the pineapples in a jar.
Sow the vanilla sugar.
Pour the rum over the pineapples.
Close the jar and let the preparation rest for 3 to 4 weeks.
Preparation time: 20 minutes
Maceration time: 3 to 4 weeks weeks
Number of people: for 0.75 l of liquor
4 star rating: 1 review
Here is a recipe for pineapples, shame not to use them.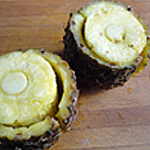 Peel the pineapple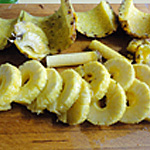 Slice the pineapple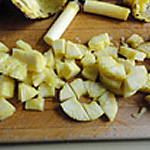 Cut the fruit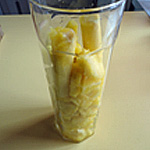 Put away the pineapple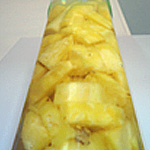 Pour the rum