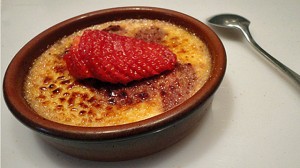 Recipe: Creme brulee with strawberries
Strawberry crème brûlée recipe. Creme brulee quick to make, a few minutes of preparation, be careful when cooking the crèmes brulees, this is surely the most delicate part. Here with strawberries that have been cooked in crème brûlée with a very light fragrance. At home we fall for all the crèmes brulees, whether sweet or savory, always so much happiness to enjoy a creme brulee.
Recipe ingredients
Strawberry crème brûlée recipe for 4 people
1/2 liter of 33% quality liquid cream
6 egg yolks and 1 whole
8 large strawberries
100g sugar
4 tablespoons of brown sugar
Instructions
Rinse the strawberries under running tap water.
Stem the strawberries.
Separate the yellows from the whites.
Add the egg yolks then the whole egg, the sugar, whisk to mix well.
Cut into strips one strawberry per ramekin.
Divide among your ramekins.
Put in a bain-marie, cold water at the start, hot oven at 220 °, for 30 minutes.
Be careful, it is the cooking, the hardest in the crème brûlée.
It should never boil very hard, just a few air bubbles on the surface and your cream is ready.
Let cool and put in the fridge.
Distribute the brown sugar on the ramekins, burn it with a blowtorch so that it caramelizes and faces a small crust.
Finely chop the strawberries and place on top of each crème brûlée.
Preparation time: 10 minutes
Cooking time: 30 minutes
Number of people: 4
5 star rating: 1 review
What wine to drink with: strawberry crème brûlée
My favorite wine for this recipe Straw wine Grape variety: Savagnin blanc and Chardonnay
Temperature between 08 ° and 11 °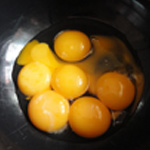 Break the eggs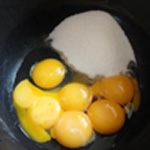 Add sugar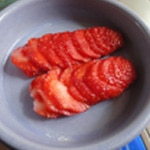 Slice the strawberries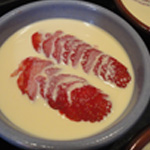 Pour over the strawberries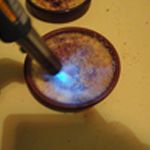 Burnt the cream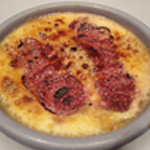 Cooked cream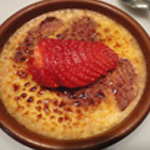 Add a strawberry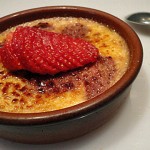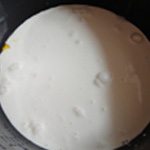 To mix together