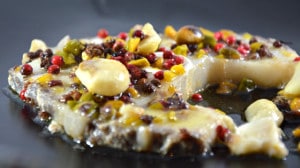 Recipe: Shark steak with pistachio
Recipe for shark steak with pistachio, a tasty marriage with the sweetness of sea veal and the crunch of pistachio, we loved it. The shark is sometimes frowned upon and unloved, stores have changed its name to sea calf to familiarize consumers. I won't hide from you that, at home, no one left their share of this recipe for shark steak with pistachio. This fish must cook like all fish under a low heat, no need to turn it over, it will just be necessary to sprinkle it generously with the very hot cooking fat and in this way you will have a very soft fish.
Recipe ingredients
Pistachio shark steak recipe for 2 people:
2 shark steaks
50 g butter
4 cloves of garlic
1 tablespoon of olive oil
1 tablespoon of pistachio
1 teaspoon of Séchouan pepper
½ teaspoon of red berries
Instructions
Wipe the shark with food paper to extract as much water as possible.
Coarsely crush the pistachios.
Peel the garlic cloves.
Put the butter in a very hot pan, then the olive oil.
Add the whole garlic cloves.
Gently place the steaks in the hot fat.
Put the fire down.
Season with salt, pepper, berries and pistachio.
Baste the fish regularly with the boiling fat.
Heat the plates then serve piping hot.
Preparation time: 5 minutes
Cooking time: 10 minutes
Number of people: 2
4 star rating: 1 review
What wine to drink with: Pistachio shark steak.
My favorite wine for this recipe: Roussette du bugey Cépage Altesse
Temperature between 08 ° and 10 °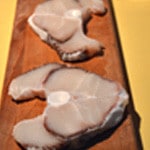 Darne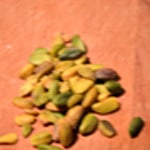 Crush the pistachios