Recipe: Tomato tapenade
Tomato tapenade recipe, of course for this recipe I used sundried tomatoes, which I rehydrated. With this recipe, I made my favorite tapenade by far. She couldn't stand the assaults of my friends. Dried tomatoes are perfect for this type of recipe, they keep their beautiful color. You can combine several tapenades with different colors on the table, black olive tapenade, green olive tapenade and of course dried tomato tapenade. Be careful if you find an important mistake in this text, thank you for pointing it out to me
Recipe ingredients
Tomato Tapenade Recipe:
150g of sundried tomatoes or 320g of rehydrated tomatoes
10 cl of olive oil or more
1 tablespoon of balsamic vinegar
½ small onion
2 cloves garlic
1 tablespoon of parmesan
25 cl of boiling water
Salt and pepper
Instructions
Rehydrate the tomatoes with olive oil and boiling water for 30 minutes.
Mix the tomatoes in jerks, so that the dough goes down to the bottom of the mixer.
Season with pepper and gradually add the oil while mixing until the desired consistency is achieved.
Pour in the vinegar and continue to mix.
Add the garlic and onion cut into pieces.
Sprinkle with the Parmesan and mix.
Reserve in the refrigerator.
Preparation time: 30 minutes
Cooking time: 0 minutes
Number of people: 10
4 star rating: 1 review
What wine to drink with: The sundried tomato tapenade
My favorite wine just your aperitif, white wine or red wine or even rosé wine
Thanks to Thibaut and Janos for the wonderful photos, memory of a long weekend at Easter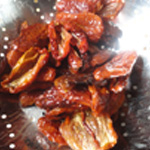 Rinse the tomatoes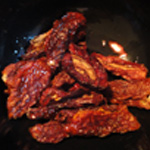 Zoom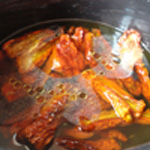 Rehydrate the tomatoes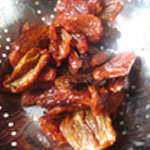 Wring the tiomates
Mix the tomatoes