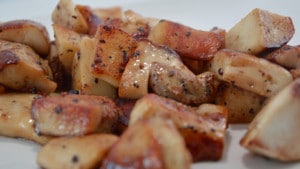 recipe: porcini mushrooms in butter
Summary: Recipe for porcini mushrooms in butter, here is a recipe for everyone and yet the result is worth the effort, an easy recipe to make. I love these generous mushrooms that grow a little in our forests. I like its smell and taste with white or red meat, but also just fried. He is the king of autumn before the arrival of the trumpets of death. Porcini mushrooms in butter, cooking simply stops when they have taken on a nice color, especially do not cook them more, they must be soft and tasty. Of course, they go perfectly with fresh pasta or risotto, but this will be the subject of a new article.

Recipe ingredients:
Recipe of porcini mushrooms in butter for 2 people:
400 gr of small fresh porcini mushrooms.
100 gr of butter
1 tablespoon of Séchouan pepper.
Guérande sea salt
Instructions
Crush the pepper in a mortar just before cooking the mushrooms.
Cut off part of the foot, as little as possible.
Brush the mushrooms, before removing all foreign bodies.
Cut the damaged parts with a knife.
Cut the porcini mushrooms into 4 or 6, so that all the pieces are even.
Heat a pan with the butter, without letting it burn.
Add the porcini mushrooms to the hot butter.
Stir gently so that the porcini mushrooms are colored on all sides.
Salt and pepper.
Stop cooking as soon as the mushrooms are colored.
Preparation time: 5 minute (s) 10
Cooking time: 5 minutes
Number of people: 2
4 star rating: 1 review
What wine to drink with: Ceps in butter
My favorite wine for this recipe: Pommard red grape Pinot noir
Temperature between 14 ° and 15 °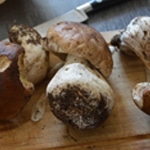 Clean the porcini mushrooms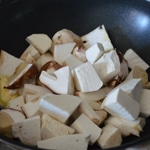 Cut the porcini mushrooms