Pork and snow peas brochettes recipe
Skewers are meat and lots of vegetables, I love it, I like playing with spices to have different flavors and add green vegetables that will stay crunchy. The fact that it is pork for these Skewers of pork and snow peas, cooking is important, you must cook the meat well. The pork and snow peas brochettes to enjoy after a great day at work, we have a gas barbecue, ready in a few minutes no worries to start it up, just let it heat up for a few minutes. I had bought snow peas at the market yesterday morning, just for the purpose of making my pork and snow peas brochettes; of course there will be some left over for other recipes (kebabs), the peas will accompany chicken or even beef.
Pork and snow peas brochettes recipe for 2 people
Ingredients
200 g roast pork
15 snow peas
1 shallot
1 small zucchini
2 tablespoons of olive oil
½ teaspoon ground white pepper
½ teaspoon of Espelette pepper
Salt
Instructions
Trim and then cut the pork into small cubes.
Sprinkle with the spices over the meat.
Add the oil.
Salt then stir to spread the preparation well over the meat.
Film and leave to rest for an hour.
Rinse and then dry the zucchini and snow peas.
Cut the zucchini into cubes equal to that of the meat.
Peel then slice the shallot in half.
Assemble the skewers alternating with the vegetables.
Preparation time: 10 minutes
Cooking time: 10 minutes
Number of people: 2
4 star rating: 1 review
What wine to drink with: Recipe Pork and snow peas brochettes
My favorite wine for this Bourgueil red recipe Grape varieties: Cabernet Franc and Sauvignin
Temperature between 15 ° and 16 °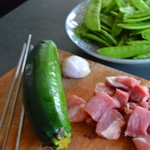 Ingredients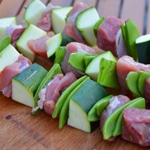 Assemble the skewers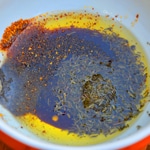 Prepare the sauce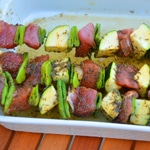 Let rest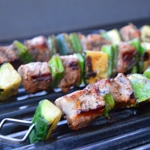 Barbecue