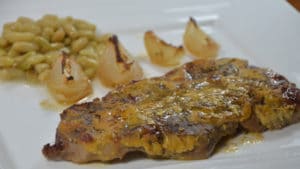 Pork chop with mustard recipe
An easy recipe to make, no long preparation ready in 10 minutes, you will love this pork chop with mustard recipe. I like grilled ribs, they are often present in my barbecues, but this is not the season and I admit that I miss the barbecue a bit. We now find pigs from the region, it is better, but the meat is not cheaper, I hope the breeders will benefit from it. Pork chop with mustard, I like to use a strong mustard to grill with meat, my daughter does not like mustard but with this recipe, she enjoys without saying anything this beautiful recipe of pork chop with mustard. We tasted them with shells, they are still the only industrial pasta that we buy, with meat juice it is devilish.
Pork chop with mustard recipe for: 3 people
Ingredients :
3 pork chops
3 tablespoons of strong mustard
10 cl of white wine
1 teaspoon ground pepper
Instructions
Preheat the oven to 200 °
Peel the onions, then roughly slice them.
Generously mustard the pork chops.
Coarsely pound the peppercorns, then pepper the rib.
Salt lightly.
Place the ribs in a baking dish.
Place in a hot oven for 40 minutes.
Deglaze the pan with the white wine.
Serve immediately.
Preparation time: 10 minutes
Cooking time: 40 minutes
Number of people: 3
4 star rating: 1 review
What wine to drink with: Pork chop with mustard
My favorite wine for this recipe: Beaujolais village Grapes Gamay
Temperature between 11 ° and 12 °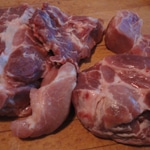 Salt and pepper the meat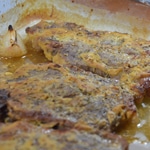 Mustard generously