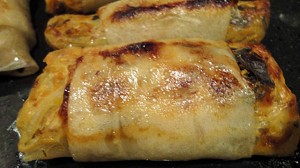 Recipe: Nem with pork
Pork spring rolls, here's how to make homemade pork spring rolls. Pork spring rolls with black mushrooms a homemade recipe the only difficulty is rolling them. A Chinese nem recipe for all amateurs as a starter or aperitif, they will appeal to children and adults. My favorite pork nem, cooking in a deep fryer to brown them well, they will stay crispy. A black mushroom recipe for my soft pork spring rolls thanks to black mushrooms, scented with mint, you can freeze them.
Recipe ingredients
Pork nem recipe for 54 nems:
54 rice sheets
1 kg of pork
300 g fine rice vermicelli
3 carrots
3 onions
50 g of mint.
150g of dried black mushrooms
300 g of fresh or canned soybean germ.
4 eggs
1 liter of frying
3 tablespoons of nuoc man
Instructions
Dip the black mushrooms to rehydrate them.
Cook the vermicelli in a broth of salted water.
Peel the carrots and cut them into julienne.
Peel the onion then cut it into julienne.
Chop the pork with the ginger, season
Cut the black mushrooms into thin strips.
Rinse the mint then dry it with food paper.
Finely chop the mint.
Add the bean sprouts
Mix the whole by breaking the eggs.
Pour hot water into a soup plate.
Soften the rice leaves in hot water, then place the rice leaves on a cutting board.
Take a large spoonful of the stuffing and place it at the base of the rice paper /
Fold the ends of the sausages over the flesh.
Roll the spring rolls tightly, let stand a few minutes so that the excess water is drained.
Heat the oil very hot, then lower the heat as soon as you start cooking your spring rolls.
Brown your spring rolls under a low heat, then place them on absorbent paper.
Preparation time: 60 minutes
Cooking time: 3 to 5 minutes
Number of spring rolls: approximately 54
4 star rating: 1 review
What wine to drink with pork nem
My favorite wine for this Alsace pinot blanc recipe Grape variety: Pinot blanc
Temperature between 10 ° and 12 °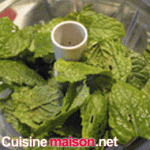 Chop the mint
Grate the carrots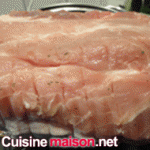 Trim the meat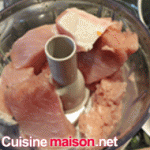 Mix the meat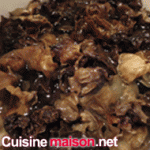 Rehydrate the mushrooms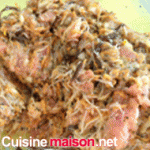 Ready stuffing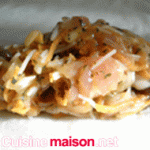 Place a stuffing sausage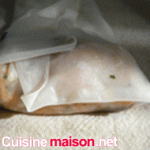 Fold the edges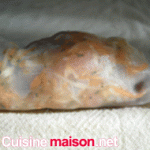 Roll the nem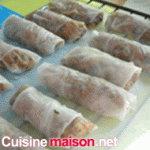 Nem ready to cook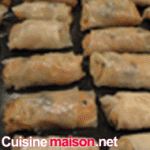 Zoom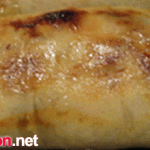 <img src="/wp-content/uploads/2021/09/3927136851126247553.jpg" class="aligncenter"