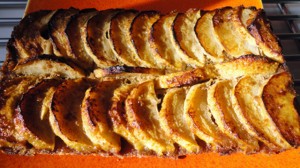 Recipe: Shortbread apple pie
Apple shortbread pie recipe, the apple pie dough is a dough made from small shortbread cookies and butter. The apple shortbread tart is a quick and easy recipe. The baked apple shortbread pie. Make an apple pie with a shortbread.
Recipe ingredients
Apple shortbread tart recipe for 4 people:
125 g butter
250 g of shortbread
3 large apples
3 egg yolks
2 tablespoons of brown sugar
1 teaspoon ground cinnamon
Instructions
Crush your shortbread with the rolling pin.
Add the soft butter cut into small pieces, mix with your fingertips, as for a shortbread dough.
Spread your preparation in a mold, then prick with a fork.
Peel the apples, slice them into equal slices about 5 mm thick.
In a bowl, combine the egg yolks, sugar and cinnamon.
Coat each apple front and back with this preparation. Then arrange the apples on the shortbread dough.
Place in a hot oven at 180 ° for 30 minutes.
Preparation time: 20 minutes
Cooking time: 30 minutes
Number of people: 4
4 star rating: 1 review
What wine to drink with Apple Shortbread Pie
My favorite wine for this recipe: Mont Louis sur Loire, Grape variety: Chenin blanc
Temperature: between 8 ° and 9 °