<
Recipe: Pork rillettes recipe
Homemade pork rillettes for the happiness of the whole house. Homemade pork rillettes are a little day of work and pleasure. Take advantage of promotions to make your pork rillettes, they cook gently in your oven and flavor the whole house. You can put these rillettes in jars and enjoy later. Homemade pork rillettes tolerate freezing well, you can enjoy your homemade pork rillettes in the heart of winter. Pork rillettes recipes to make yourself, easy recipe you manage the fat in your rillettes. My pork rillettes without the fat, I extracted all the fat from my pork rillettes, just barely on top to protect the pork rillettes.
Recipe ingredients
Pork rillettes recipe: for 2 kg
2,500 kg of smoked pork belly or fresh belly
1, 900 kg of rouelle
4 onions
1 tablespoon of duck fat
10 g of salt per kilo
03 g of pepper per kilo
01 g of ground cloves for 2 kg
3 bay leaves per kilo
3 sprigs of fresh thyme per kilo
0.40 l of Riesling per kilo of meat, complete with water
2 grains of Geneviève per kilo
Instructions
Peel and cut the onions into small strips.
Heat the cast iron casserole dish with the spoonful of duck fat.
Discard the onion slices so that they become translucent, without taking color.
Cut the smoked bacon into strips and then into cubes the size of a rillon.
Brown the onions in the casserole.
Cut the slice of pork into strips, then into cubes of about 4 cm by 4 cm.
Brown in the casserole dish.
Add all the spices to the casserole dish, without adding salt.
Pour in the white wine and finish covering with water.
Place in the oven, starting cold, set the oven to 150 ° and cook for 3 hours.
Turn the meat well after the 3 hours of cooking.
Repeat the cooking operation for another 3 hours, let cool gently in the oven overnight.
Separate the meat from the juice, strain the juice through a Chinese.
Go to a mixer with the flat whisk, the next day to detach the meat, stop turning when you have obtained your grain.
Weigh your preparation and salt, respect the dosage, finish separating the meat by hand, check that there is no more bone or cartilage.
Leave to rest for a few days in the refrigerator and serve with pickled cherries.
Preparation time: 60 minutes
Cooking time: 6 hour (s)
Number of people: 2 kg of pork rillettes
4 star rating: 1 review
Cherries in vinegar from cuisinemaison.net
What wine to drink with: Pork rillettes recipe
My favorite wine for this Bourgogne aligoté recipe Grape variety: Aligoté
Temperature between 06 ° and 08 °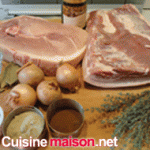 Ingredients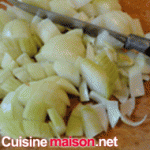 Cut the onions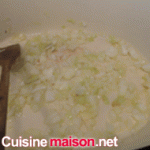 Sear the onions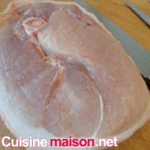 The rouelle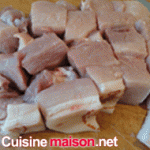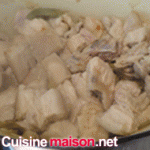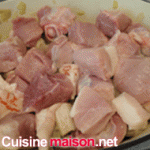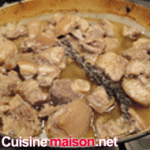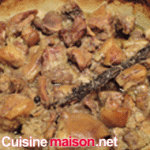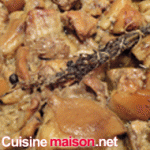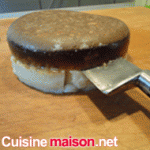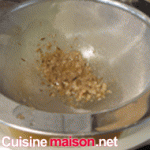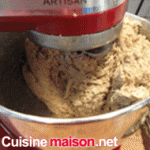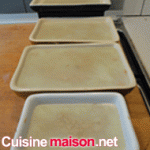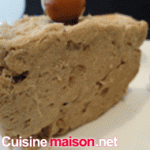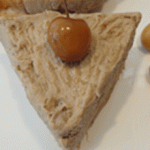 <img src="/wp-content/uploads/2021/09/7497667412812972855.jpg" class="aligncenter"