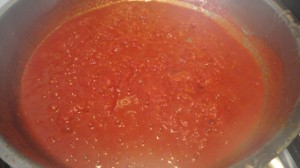 Recipe: Tomato paste
Super easy tomato paste recipe. Crushed tomato or peeled tomato to make this tomato paste recipe, which you can enjoy all year round. Let reduce to obtain a double tomato paste for an hour. A concentrated tomato sauce preferred in winter where the tomatoes have no taste. Make tomato paste with peeled tomatoes, a recipe that you can adapt to many other recipes. Tomato concentrate to make a stuffing for homemade ravioli. Tomato concentrate for the base of your pizzas, or your puff pastry appetizers. A tomato sauce with tomato paste, always equal all year round. Tomato concentrate to make your verrines its color and texture lends itself very well to your creations.
Recipe ingredients
Tomato paste recipe for 4 people:
1 onion
2 cloves of garlic
2 shallots
1 tablespoon of olive oil
1 can of peeled tomatoes
1 tablespoon of Provence herb
1 tablespoon of oregano
1 teaspoon of paprika
½ teaspoon of coarse salt
2 lumps of sugar
Pepper
Instructions
Heat the oil in a cast iron casserole dish.
Peel the garlic, onion and shallots, then mince them.
Sear the garlic, onion and shallots, without letting them color.
Pour the can of tomatoes into a saucepan with a thick bottom.
Add the herbs, stir with a wooden spoon.
Add the sugar.
Salt and pepper
Simmer on a low heat, very low for 1 hour.
Crush the few resistant tomatoes using a wooden spoon.
Mix the sauce.
Cooking is finished when there is no more juice in your pan, the concentrate is thick.
Preparation time: 30 minutes
Cooking time: 60 minute (s)
Number of people: 4
4 star rating: 1 review
What wine to drink with: Tomato concentrate
Everything will depend on the support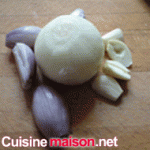 Garlic shallot onion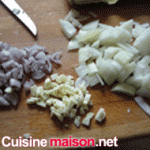 Slice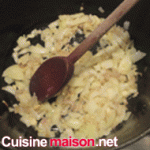 Grab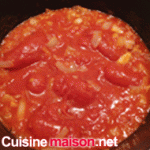 Peeled tomatoes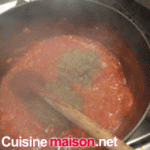 Add the herbs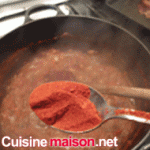 The papricka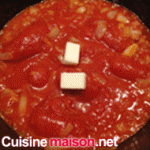 Sugar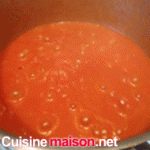 Let reduce