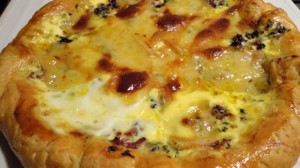 Recipe: Apple and cheese pie
Potato pie with cheese and bacon, covered with Comté, it perfumes the whole kitchen during cooking. A baked potato recipe. A gourmet cooking recipe for people in a hurry, the sidewalks of the tart full of grated cheese will be crisp to perfection.
Recipe ingredients
Potato and cheese tart recipe for 4 people:
4 large potatoes
30 cl of sour cream
2 eggs
20 g smoked breast
½ bunch of curly parsley
50 g grated Gruyere
2 shallots
1 teaspoon of olive oil.
100 gr of Comté in pieces.
Instructions
Cook the potatoes in cold salted water, from the first broths, count about 20 minutes.
Peel, mince and sear the shallots in a pan with a teaspoon of olive oil.
Add the bacon bacon, turn regularly with a wooden spoon.
Rinse, chop then sear the parsley with the bacon and shallots.
Spread the puff pastry in a mold lined with baking paper.
Garnish around the mold with grated Gruyère cheese.
Fold the edges of the tart to close the grated filling, wet with a little water to seal.
Pour a little crème fraîche on the bottom of the tart.
Slice the potatoes into equal rounds and garnish the pie shell.
Mix the cream with the 2 eggs and the grated cheese.
Pour the cheese mixture over the potatoes.
Cut the county into equal strips and decorate the top of the pie.
Heat the oven to 180 °
Bake the pie in the oven for 45 minutes.
Preparation time: 20 minutes
Cooking time: 45 minutes
Number of people: 4
4 star rating: 1 review
What wine to drink with: Potato and cheese pie
My favorite wine for this recipe Anju village Grape variety: Cabernet franc; Cabernet Sauvignon
Temperature between 11 ° and 13 °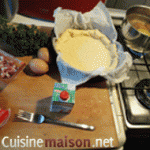 Ingredients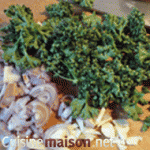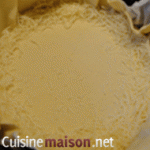 Distribute the Gruyère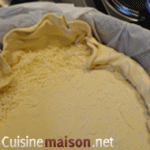 Roll up the gruyere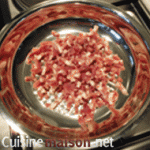 Grill the bacon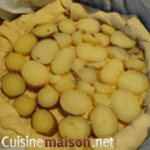 Cut the potatoes
Distribute the bacon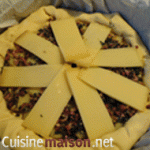 Place the county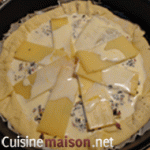 Add the cream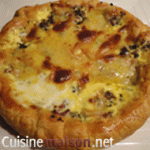 Presentation