Gorgonzola Potato Gratin Recipe
My son came for lunch during his lunch break, so he needed a quick and hearty main course, I chose this Potato Gratin with Gorgonzola. Of course I cooked the potatoes so that they still remain soft; cooked in the fat of the chorizo, they were divinely fragrant, we loved this Gorgonzola Potato Gratin, but to reserve rather for a lunch because it is a little rich for a dinner. We are not too used to eating potatoes, yet we live in Haute Saône (this department used to be called "Haute Patate"). Well, I admit that I always have at least one chorizo (or two) in my refrigerator, just in case, so nothing more natural than to make this Potato Gratin with Gorgonzola
Gorgonzola potato gratin recipe for 2 people
Ingredients
500 g of potatoes
1 mild or strong chorizo
1 onion
2 cloves garlic
140 gr of Gorgonzola
Instructions
Slice the chorizo into regular rounds.
Peel then cut the potatoes into small cubes.
Peel the onion and garlic, then finely chop them.
Sear, without letting them color, the chorizo slices.
Reserve the chorizo as soon as it has rejected the fat.
Sear the onion and garlic in the chorizo fat, then set aside.
Add the potatoes to the hot fat.
At the end of cooking, add the garlic and onion, then the chorizo.
Generously pepper the preparation.
Place everything in an earthenware mold.
Slice the cheese directly over the potatoes.
Place in a hot oven for 20 minutes.
Eat hot with a green salad.
Preparation time: 30 minutes
Cooking time: 20 minutes
Number of people: 2
4 star rating: 1 review
What wine to drink with: Recipe Potato gratin with Gorgonzola
My favorite wine for this Cahors Grape variety recipe: Tanat, Merlot and Cot Noir
Temperature between 14 ° and 16 °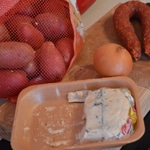 Ingredients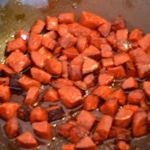 Bake the potatoes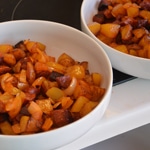 Cooked apple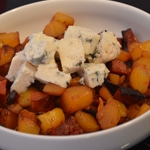 Add the Mascarpone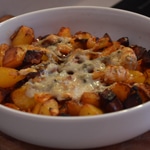 Zoom