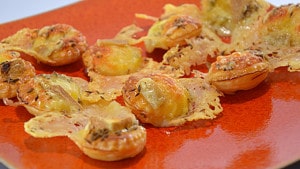 Recipe: Maroille puff pastry
Puff pastry recipe with maroilles, here is a little puff pastry for the aperitif with friends a little spicy. Choose a well-seasoned cheese for a flavorful recipe. The puff pastry at home are changed at every meal, we still keep our favorites. But each time there are new discoveries and we are rarely disappointed. Puff pastry at Maroilles for the pleasure of all, young and old, all unanimous, they loved it. I particularly like those moments at the start of a meal when we start to drink an aperitif and when everyone has lots of things to say. I discovered this cheese on the occasion of Mélanie's wedding. Her husband had imported it from the north directly from a cheese factory.
Recipe ingredients
Puff pastry recipe with Maroilles for about 30 imprints:
1 roll of puff pastry
250g of Maroilles
1 tablespoon of caraway seeds
2 egg yolks
Instructions
Roll out the dough very cold.
Cut the Maroilles into cubes.
Cut the dough with a cookie cutter.
Place the puff pastry circles in the silicone mold.
Place the scraps of puff pastry on top of each other.
Roll out again and cut with the circle, no waste.
Prick the dough with a fork.
Brown the edges of the tarts with the egg yolks.
Place a cube of Maroilles on each imprint of puff pastry.
Sprinkle generously with caraway.
Place in a hot oven for 17 minutes.
Enjoy lukewarm.
Preparation time: 20 minutes
Cooking time: 17 minutes
Number of pieces: 30 pieces
4 star rating: 1 review
What wine to drink with: Maroilles puff pastry
My favorite wine for this recipe: Gewurztraminer grape Gewurztraminer
Temperature between 07 ° and 09 °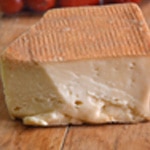 The maroille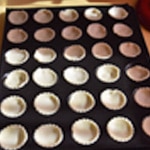 Fill in the footprints
Cut the maroille
Baked puff pastry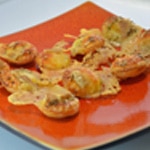 Zoom