Greek salad recipe
Instructions
To accompany a barbecue evening, a salad that smells of the sun. A Greek salad with feta to start a picnic, very fresh it will be devoured. Here is an idea of salad composed with colors flavored with olive oil, onions, cucumbers and tomatoes, it is a complete salad. Feta cheese that goes with lots of recipes and especially salads, impossible to forget in this kind of salad. the Greeks consume large amounts of feta cheese.
Greek salad recipe for 7 people:
Ingredients
1 cucumber
7 tomatoes
1 white onion
½ red onion
150 g Greek-style black olive
2 tablespoons of olive oil.
1 can of feta
1 lemon
1 teaspoon of fleur de sel
¼ teaspoon of gray pepper
Instructions
Rinse the tomatoes with clear water.
Cut the tomatoes into cubes.
Peel the cucumber, then slice it into small squares.
Peel the white and red onion.
Cut the onions into very thin strips.
Cut the feta into small cubes.
Mix all ingredients.
Salt and pepper.
Squeeze the juice from one lemon, pour over the vegetables.
Crush the onions with your hands to loosen the rings.
Add the black olives.
Pour in the 2 tablespoons of olive oil or more according to your taste.
Place in the refrigerator an hour before tasting.
Preparation time: 20 minutes
Cooking time: 0 minutes
Number of people: 7
4 star rating: 1 review
What wine to drink with Greek salad:
My favorite wine for this Corbières red recipe Grape variety: Carignan; Grenache noir; Cinsault
Temperature between 16 ° and 18 °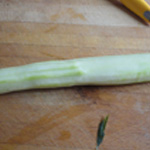 Peel the cucumber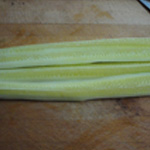 Cut lengthwise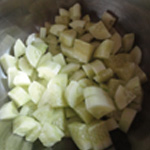 Then in cube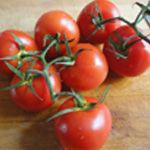 Rinse the tomatoes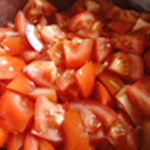 Cut the tomatoes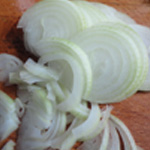 Slice the onions
Red onion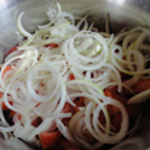 Onion rings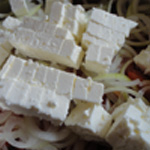 Feta cube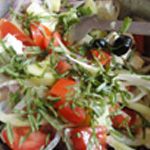 Basil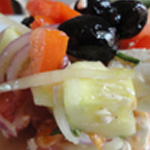 Zoom