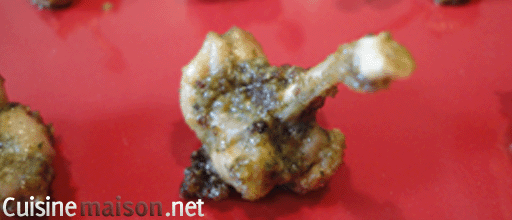 Frog legs in ham recipe
Recipe for frog legs in ham, a nice starter reserved for great frog lovers, a recipe a little long to prepare, but it is very classy. Frog leg another breaded recipe with golden breadcrumbs, you will surprise all your friends. Recipe for fresh or frozen frog legs, it all depends on your region, with us in Franche Comté, they are numerous in our thousand ponds. A real institution, frog legs here with these frog legs in ham, a different way of cooking these little animals, I like it a lot.
Frog legs in ham recipe for 4 people
Ingredients :
24 fresh frog legs
40g butter
2 teaspoons of hazelnut oil
5 g of dried tarragon
5 g of dried parsley
5 g of dried garlic
5 g corn flour
10 g walnuts
60 g butter
Instructions
Garnish the frogs' legs.
Bone the frogs' legs by pulling the flesh downwards to obtain the shape of a ham.
Mix the tarragon with the parsley, garlic, nuts and flour, season with salt and pepper, the breadcrumbs are ready.
Dip the ham in the breadcrumbs.
Heat the pan with the clarified butter.
Sear the frogs on each side, then lower the pan to let the thighs brown.
Preparation time: 30 minutes
Cooking time: 45 minutes
Number of people: 8
4 star rating: 1 review
What wine to drink with: Frog legs in jambonnette
My favorite wine for this recipe Auxey Duresses Grape variety: pinot noir
Temperature between 15 ° and 16 °