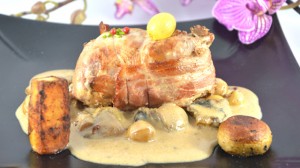 Recipe: Quail and foie gras
Quail and foie gras recipe, surely the happiest marriage for holiday meals, find beautiful plump quail for this recipe. I like this cream sauce where the foie gras has melted gently, perfuming this divine sauce wonderfully, I like to decorate it with a few grapes of blond grapes. I often reserve a grape per person that I serve raw to have a little crunch. Foie gras recipe or how to flavor a sauce to make it a real killer, I really like foie gras. Recipe memory 2013
Recipe ingredients
Quail and foie gras recipe for 12 people:
12 quails
200 g of foie gras
400 g of veal blanquette
200 g of blond grapes
¼ of a bunch of flat-leaf parsley
3 shallots
4 large mushrooms
250 g of smoked bacon
1 tablespoon of soy sauce
1 knife tip of ground ginger
1 tablespoon of sweet paprika
1 bottle of chardonnay
50 cl of fluid cream
Instructions
Rub the mushrooms, then cut the stems.
Finely cut the mushrooms into duxelles.
Peel the shallots then chop them.
Rinse the parsley, then dry it with food paper.
Chop the parsley and shallots with a knife.
Chop the veal with the smoked breast.
Season the meats with salt and pepper.
Add the ginger and paprika, mix with a wooden spoon, in order to incorporate the spices into the meat.
Cut the foie gras into 12 pieces of the same size.
Stuff inside each quail a piece of foie gras.
Generously fill the belly of the quails with the stuffing.
Place a bard of bacon on each quail, blocking the stuffing.
Tie the thighs together.
Tie the quails to block the smoked bacon bard.
Sear the shallots without coloring them in a large cast iron casserole dish.
Add the mushroom duxelles and cook for 2 to 3 minutes.
Sear the quails on all sides, so that they take on a beautiful golden color.
Take out the quails as soon as they are grilled.
Deglaze with the white wine.
Add the cream.
Salt and pepper.
Gently place the quails in the casserole dish.
Add the grapes, keeping one grain per person, to serve them raw with the quails.
Place in a hot oven at 180 ° for 30 minutes, then keep warm in the oven at 80 °.
Degrease the sauce from the fat from the foie gras.
Heat the casserole dish to reduce the sauce for 10 to 20 minutes.
Put the quails back in the casserole dish and in the oven while waiting for tasting.
Preparation time: 35 minute (s)
Cooking time: 30 minutes
Number of people: 12
4 star rating: 1 review
What wine to drink with: Quail and foie gras
My favorite wine for this recipe: Corton Charlemagne Cépage Chardonnay
Temperature between 08 ° and 10 °
If you can afford it, because honestly I have never tasted it, maybe one day. Otherwise a good Chardonnay
A little thought for Aurélie, who tasted these beautiful quails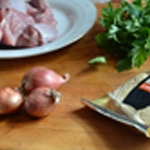 Shallots, garlic and parsley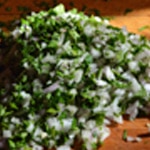 Parsley and shallots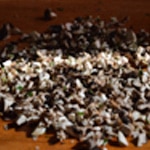 Crushed mushrooms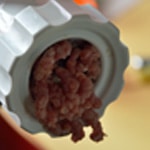 Chop the blanquette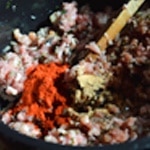 Add the spices to the meat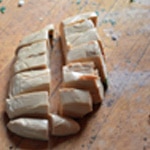 Raw foie gras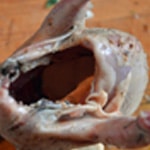 Open the quail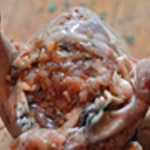 Stuff the quail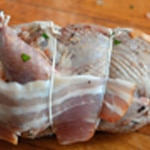 Bard the quail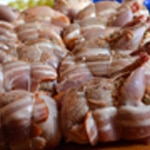 The beautiful quails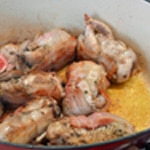 Roast the quails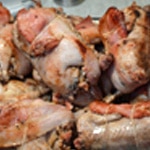 Color them well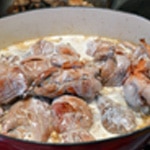 Add wine and cream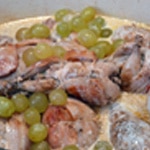 Some grapes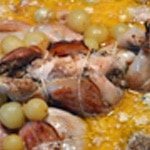 Degrease the sauce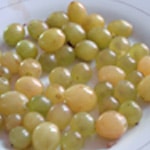 Some grapes for decoration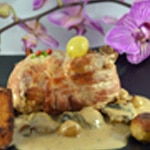 Quail and Orchid<img src="/wp-content/uploads/2021/09/241013446672339319.jpg" class="aligncenter"