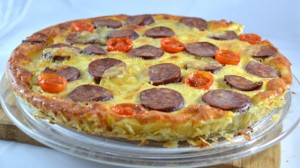 Recipe: Quiche Franc comtoise
Very easy to make Franc comtoise quiche recipe. A quiche Franc comtoise, cancoillotte, Morbier and Saucisse de Morteau. Time to cook the potatoes and you're done. Ready in less than an hour, this quiche should not leave you indifferent. Morteau sausage recipe, we had a friend at Léonie who came to lunch, a little difficult it is not always easy to please her.
Recipe ingredients
Quiche Franc comtoise recipe for quiche 6 people:
1 Morteau sausage
4 potatoes
250 g of garlic cancoillotte
150 g of morbier
25 cl of liquid cream
2 eggs
Salt and pepper
Instructions
Preheat the oven to 200 °
Cook the potatoes in a large volume of water for about 20 minutes.
Mix the cancoillotte and the liquid cream with a mixer.
Salt and pepper.
Roll out the dough evenly with a rolling pin.
Butter and flour the pie plate.
Place the pie crust in the baking sheet.
Prick the bottom of your pie with a fork.
Trim the edges with a knife.
Cut the potatoes into thin slices, then place them on the pie shell.
Cut the Morteau sausage into thin slices, then place it on the bottom of the tart.
Gently pour the cancoillotte preparation.
Slice strips in the morbier, then divide it around the pieces of Morteau sausage.
Bake at the bottom of the oven for 40 to 45 minutes.
Preparation time: 20 minutes
Cooking time: 45 minutes
Number of people: 6
4 star rating: 1 review
What wine to drink with: Quiche Franc comtoise
My favorite wine for this recipe: Trousseau Arbois Cépage Trousseau, Poulsard, Pinot noir
Temperature between 11 ° and 13 °
Originally two sites my influence for this recipe, but of course I could not help but put my two cents.
Thank you Ingrid from the lolibox blog for your loyalty.
Thank you to a Norman in the kitchen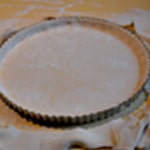 Roll out the dough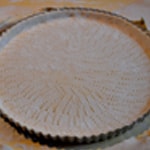 Prick with a fork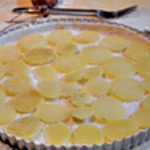 Cut the pdts into slices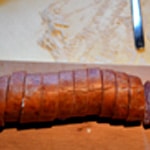 Cut the Morteau into slices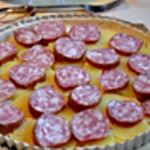 Place the Morteau on the pdts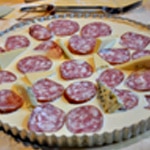 Pour the preparation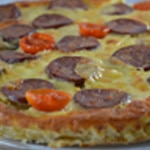 Unmold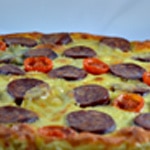 Zoom