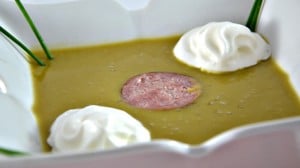 Recipe: Split pea soup
Split pea soup recipe, for a cold day. This soup has its place in winter. I love this divinely scented soup, always very thick, at home you never eat the same soup, I have to renew it all winter long. I also like to keep split peas to eat them with the Morteau sausage and the bacon strip, a big knob of butter on the peas and voila. Split pea soup, often emergency soup with the arrival of unexpected guests.
Recipe ingredients
Recipe Split pea soup for 6 people:
500 g split peas
2 carrots
1 leek
2 onions
2 cloves garlic
1 Morteau sausage
2 strips of pork belly
20 cl of liquid cream.
Instructions
Pour the cream into the siphon.
Shake and put in the refrigerator.
Peel the carrots then cut them into slices.
Peel the onion, cut in half and then into small cubes.
Peel the garlic.
Peel the leek and cut in half.
Place all the vegetables in a large saucepan.
Add the Morteau sausage without piercing it.
Add the bacon strips.
Cover with plenty of water.
Add whole peeled garlic.
Salt and pepper
Cook for about 45 minutes.
Remove some of the liquid.
Remove the sausage and pork belly.
Mix and add the liquid as you go.
Serve hot with a small salted whipped cream.
Cut a slice of Morteau per person.
Preparation time: 20 minutes
Cooking time: 45 minutes
Number of people: 4
4 star rating: 1 review
What wine to drink with: Split pea soup
My favorite wine for this recipe: Bergerac rouge Cépage Cabernet Franc and Sauvignon, Merlot
Temperature between 13 ° and 16 °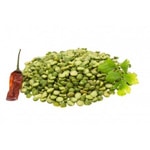 Dry split peas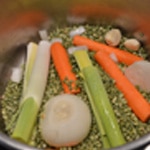 Add the vegetables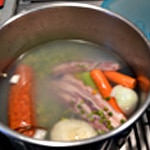 Add water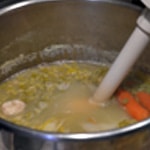 Mixer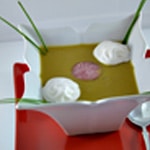 Zoom