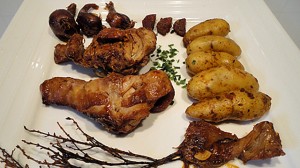 Recipe: Rabbit and chorizo
Rabbit and chorizo recipe, I used rabbit saddles for this recipe and mild chorizo because my daughter has trouble with chorizo. A fairly easy rabbit recipe to make, the chorizo and rosemary have flavored this dish with saddle of rabbit. Rabbit and chorizo, be careful when cooking the chorizo, it burns quickly.
Recipe ingredients
Rabbit and chorizo recipe for 4 people:
8 saddles of rabbit
2 onions
6 cloves of garlic
8 small shallots
1 sprig of thyme
3 bay leaves
150 g of chorizo
12 cl of white wine
15 cl of chicken stock
800 gr of Ratte potatoes
Instructions
Wash and brush the potatoes without peeling them.
Peel the onions and cut them into quarters.
Peel the shallots.
Brown the rabbit saddles in a casserole dish with olive oil.
Pass the rabbit in a baking dish.
Add the onions, shallots and garlic without peeling them and finally the potatoes.
Drizzle with white wine and chicken broth.
Add the rosemary.
Salt and pepper.
Bake for one hour in a hot oven at 180 °.
Water every quarter of an hour.
Add the chorizo slices fifteen minutes before the end of cooking.
Preparation time: 15 minutes
Cooking time: 1 hour (s)
Number of people: 4
4 star rating: 1 review
What wine to drink with: Rabbit and chorizo
My favorite wine for this recipe: Côte de Roussillon rouge Grape Grenache noir; Cinsault; Carignan
Temperature between 15 ° and 16 °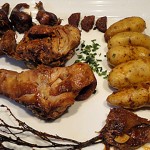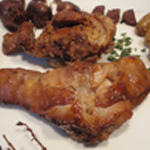 Cooked rabbit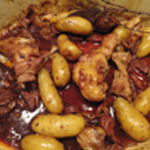 Stir so as not to burn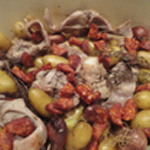 Grill the chorizo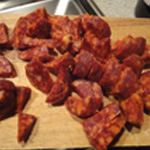 Cut the chorizo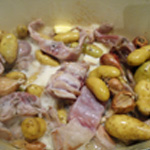 Add the rattes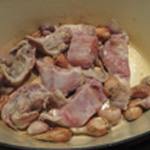 Add garlic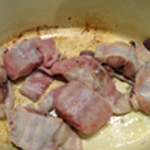 Grill the rabbit