How to choose your knives
If there is one tool in all kitchens, from the maid's room to the kitchen of a great starred chef, it is the knife, no I should say the knives. The purpose of this article is to help you in the choice of blades and not in the Brands, we find everything in the trade I will only mention the most important, often very expensive; the choice is important, but this companion will last you a lifetime, if you take care of it and don't play darts with it. Yes, the knife does not like falls, its tip is fragile and its always sharp edge does not withstand shocks, so take care like the apple of your eye. I'm not going to tell you here that every food has its knife, though, but some are vital in your kitchen.
It is surely the first tool created by man almost 25,000 years ago, although rather rudimentary it was made of minerals just a few flint shards or Obsidian, but also made of bone, sharp it was mainly used for man to defend himself at first. But it was with the discovery of metals that he found his first letters of nobility. It started with copper, then bronze with much harder blades. The appearance of sleeves comes with this time. But it was the Romans who used steel for the blades.
A number of countries share the knife market, I will start with France with its region of Thiers in Auvergne which produces around 80% of the national market. These brands are known worldwide, I am thinking in particular of Opinel, K Sabatier, Laguiole, Au nain, Lion Sabatier… ..But also the paring knife from Nogent, present in almost all families.
So, here I am choosing my knives, you noticed that I did not mention the handles, you just have to feel it in your hand (in wood or metal, it's just a matter of look, as for me my preference is for the wooden handles, ideal to the touch). For the blade two choices will be offered: the forged blade is by far a guarantee of quality or the cut blade.
Here is the list of knives that I recommend:
The office knife: a hard and pointed blade, it will be useful for peeling and cutting fruits and vegetables. It made its appearance at the beginning of the 20th century, it is now in all homes, when the model is up to you to see but test several forms.
Thrifty: A double blade, which allows you to peel vegetables and fruits economically and regularly, you can choose it with a straight or horizontal blade.
The universal kitchen knife: a blade of 11 to 16 cm with a thick blade, it will be there to peel fruits or vegetables, but also to chop onions, cut raw and cooked ham.
The chef's knife: a thick blade of 15 to 20 cm, it is used in particular to chop, mince and chisel.
Sole fillet: A thin blade of 14 to 18 cm, it is flexible and ideal for lifting fish fillets, I use it every day and I like to peel raw fruit with my sole fillet.
The bread knife: A toothed blade for sawing bread from 21 to 26 cm, choose rather medium teeth than too small. The Santoku or Japanese Knife: I won't say it's a fad, though. But it can replace the chef's knife and having both will not be a handicap, quite the contrary.
I will end my article by telling you a little about the maintenance of all these sharp utensils, I advise you to avoid the dishwasher, it heats the knife and the washing products are a little aggressive. On the other hand, impossible not to talk about the edge of the knives, they are the ones who will cut like a razor blade. I invite you to test the professional kitchen equipment from Fourniresto.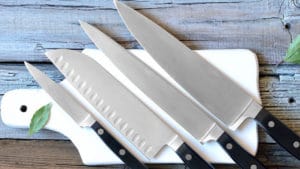 </p