Recipe: Rabbit stew with red wine
Rabbit stew recipe, rabbit stew with blood, same recipe as for making a hare stew. Civet sauce for a red wine rabbit, I love my grandmother's rabbit civet recipe. Simmer this rabbit stew recipe for at least 2 hours, on a low heat. The rabbit stew is an institution in our family, it is true that we breed rabbits, the grandmother did not forget to ask Grandpa René for blood, for his rabbit stew. On Sunday all together we honored the grandma's rabbit stew.
Rabbit stew in red wine recipe for: 8 people
1 beautiful rabbit
1,500 l of red wine (the same wine you are going to serve at the table)
3 carrots
1 onion
50 g of dried trumpets
3 sprigs of thyme
1 sprig of sage
3 cloves
3 bay leaves
5 juniper berries
1 rabbit liver
2 sprigs of rosemary
200 g smoked bacon
50 g butter
Instructions
Cut your rabbit into pieces and put them to marinate with salt, pepper whole onion studded with 3 cloves: 3 twigs of thyme, 2 sprigs of rosemary, 3 carrots, 3 bay leaves, 5 juniper berries, 1.5 l of red wine. Leave a day according to taste.
Melt the butter with the bacon cut into small squares in a cast iron casserole dish, with an onion cut into quarters.
Put the trumpets in a salad bowl, cover with hot water.
Wipe the pieces of rabbit with food paper and brown them, without letting them color, the goal is to strengthen the meat and especially that it remains without shedding the bones.
When the pieces are all passed in the casserole, sprinkle with two spoonfuls of flour, mix well.
Add the stewed marinade, add a little red wine so that the meat bathes, add the trumpets and a bouquet garni forced in thyme.
Simmer over low heat for 90 minutes.
Remove the pieces, return to the boil and bind with the rabbit's blood that you have reserved, add the rabbit's liver, mix.
Put your pieces of rabbit back into the sauce, but don't let it boil. The sauce must be very smooth. That is to say, it must be well reduced.
Adjust the seasoning.
Preparation time: 40 minutes
Cooking time: 90 minutes
Number of people: 4
4 star rating: 1 review
What wine to drink with: Rabbit stew with blood
My favorite wine for this recipe Cahors (Red) (Grape varieties: Malbec, Merlor
Temperature between 17 ° and 18 °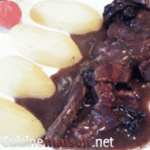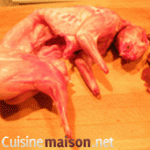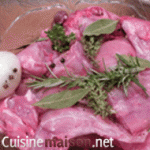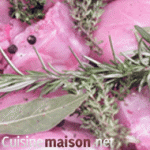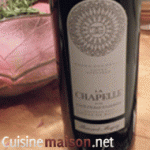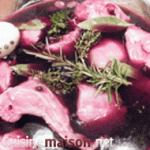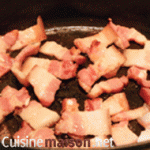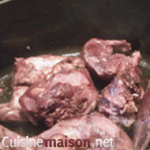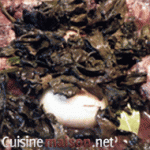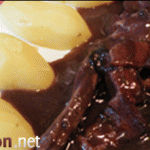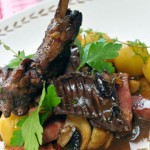 More recipes:
Duck breast stew

Doe stew

Roasted rabbit terrine with sour cherry juice

Mediterranean rabbit
Carrots
Rabbit
Smoked bacon
Red wine Pascal
Hide reactions

@ René Bole
thank you for this info, but I am reserving for wine sauces. Thank you for your visit

You can add 2 squares of dark chocolate to the sauce when binding. This brings softness and velvety to the sauce.

@mache richard
No, there is no problem, they will be tender. but what is most important in this recipe is the taste they will give to your sauce.
Thank you for your comment and your visit.
All my wishes.
PascalB

hello and best wishes my question is simple it seems to me that the trumpets cooking for so long should be hard? Is that the case?

put crushed black pudding instead of blood.

Hi there! I could have sworn I've been to this blog before but after reading through some of the post I realized it's new to me. Anyhow, I'm definitely glad I found it and I'll be bookmarking and checking back frequently!

@lila B
Hello Lila, thank you for your remark, indeed the 3 carrots go well in the marinade. However, this recipe has already been read 12,210 times a year and no one noticed that my carrots were missing. So thank you, I am correcting the recipe. See you soon, look forward to seeing you again.
Pascal

… The 3 carrots have disappeared from the recipe – maybe add them to the marinade – what to do with these 3 carrots !!!!

Hello,
Thanks for the comment, but it's impossible to get rabbit blood from the butcher. But he must be able to offer pig's blood.
But nothing beats the rabbits bought on the farm.

I had the honor of tasting the stew cooked by Pascal (himself!), Obviously a treat!
At the butcher's, can we have blood easily? It must be good even without… .blood. Thank you again.
Christiane
Your reactions / questions / tips: Cancel reply
Remark
Name *
Email *
Website
</p