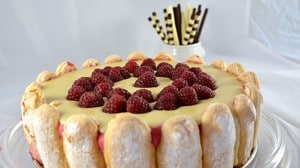 Recipe: Raspberry and White Chocolate Charlotte
Charlotte recipe Raspberries and white chocolate, chocolate cakes don't last long at home. Charlotte raspberries, my favorite, but it's still an easy dessert. This charlotte is a quick dessert, you just have to prepare it the day before. With the white chocolate icing on the charlotte, it makes it even more delicious, plus a few raspberries placed on the white chocolate for contrast and presto it's ready to taste.
Recipe ingredients
Raspberry and white chocolate Charlotte recipe for 8 people:
1 kg of raspberries
100 g icing sugar
5 gelatin sheets
50 cl of liquid cream
2 tablespoons of icing sugar
1 box of boudoirs
200g white chocolate
125 g raspberries for garnish
1 teaspoon of hazelnut oil.
Instructions
Blend the raspberries with a soup blender, adding a little water.
Pass the raspberry coulis in a Chinese style.
Sweeten the raspberry coulis with icing sugar (100g).
Reserve 5 cl of coulis to soak the boudoirs.
Trace the shape of the bottom of the pan to be missed on the baking paper.
Whip the fluid cream into a whipped cream with 2 tablespoons of icing sugar.
Soak 5 gelatin sheets in lukewarm water.
Heat 10 cl of raspberry coulis, then incorporate the gelatin leaves, leave to cool.
Gently fold the whipped cream into the raspberry coulis.
Cut the cookies to the height of the mold.
Arrange the cookies with a spoon all around the mold.
Place the rest of the cookies in the bottom of the mold, packing a little.
Soak the boudoirs with the raspberry coulis you have reserved.
Pour the raspberry whipped cream into the mold.
Break the white chocolate.
Melt the white chocolate in a double boiler.
Add 5cl of liquid cream.
Add the hazelnut oil, just so that the white chocolate does not break when cut.
Let cool a little then run gently over the charlotte.
Let cool a little, then add the whole raspberries.
Let stand overnight in the refrigerator.
Preparation time: 40 minutes
Cooking time: 0 minutes
Number of people: 12
5 star rating: 1 review
What wine to drink with: Charlotte with raspberries and white chocolate
My favorite wine for this recipe: Mont Louis sur Loire Cépage Chenin blanc
Temperature between 08 ° and 10 °
Switch to chinese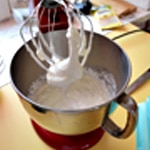 Assemble the whipped cream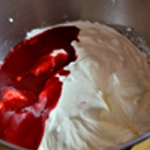 Coulis and whipped cream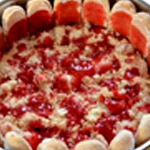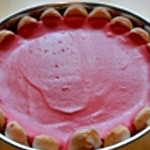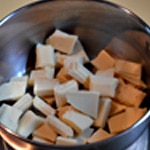 Melt the chocolate
Melted chocolate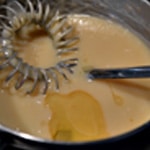 Add hazelnut oil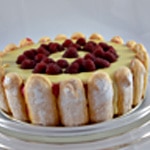 Decorate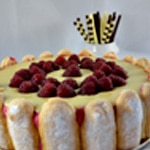 Zoom<img src="/wp-content/uploads/2021/09/6970595931983061136.jpg" class="aligncenter"