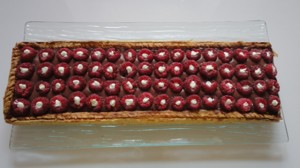 Recipe: Raspberry tart
Raspberry chocolate tart, how can you resist the arrival of raspberries on the market, this morning I fell in love, they were all fresh. I immediately thought of a raspberry chocolate tart, I had tasted this delicious wedding at a friend's house and spotted in a girl's magazine a great idea to decorate these young ladies, served on a chocolate ganache, my dessert for noon was ready . I would classify this dessert under the easy chocolate pie recipe section, just a little patience to fill the raspberries
Recipe ingredients
Raspberry chocolate tart recipe for 8 people:
1 puff pastry of 350 g or shortbread (depending on taste)
200 g fresh raspberries
20 cl of liquid cream for the whipped cream
1 egg yolk
Ganache
15 cl of fluid cream
125 g of 70% chocolate
60g fine butter
15g icing sugar
80 g raspberries
1 tablespoon of water
Instructions
Mix the 80g of raspberries with a tablespoon of water and the 15g of icing sugar.
Pass the raspberry coulis through a Chinese.
Spread the puff pastry on the floured work surface.
Butter the tartar mold, here I used a 33X12 cm rectangular mold;
Generously flour the mold.
Remove excess flour.
Place the spread in the mold, prick the pie shell with a fork.
Cut off the excess dough, then cover the top of the edges with an egg yolk.
Cover with baking paper, then clay balls (or for me small pebbles).
Place in a hot oven at 180 ° for 30 minutes.
Remove the clay balls and cook for another 10 minutes, to finish cooking the pie shell.
Heat the fluid cream in a saucepan.
Break the chocolate bar on the edge of a work surface before unwrapping it.
Stop the heat as soon as the cream boils.
Place the chocolate pieces in the crème brûlée.
Let the chocolate relax in the cream for 5 minutes.
Stir gently with a wooden spoon without too much aeration.
Pour the raspberry coulis into the ganache and finish mixing your preparation.
Pour the raspberry ganache over your pie shell.
Leave to cool for half an hour.
Place the raspberries upside down.
Whip up your firm whipped cream with 20 cl of very cold fluid cream.
Place a head of whipped cream on each raspberry.
Preparation time: 20 minutes
Cooking time: 30 minutes
Number of people: 8
4 star rating: 1 review
What wine to drink with: Chocolate raspberry tart
My favorite Monbazillac wine for this recipe Grape variety: Sémillon, sauvignon blanc, Muscadelle
Temperature between 6 ° and 8
I found part of this recipe, in a current woman's magazine, of course I modified it.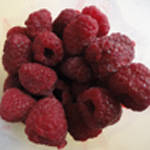 Rinse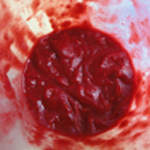 Mixer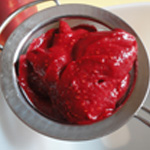 Switch to Chinese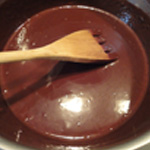 Chocolate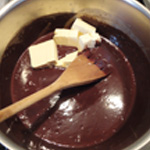 Add the butter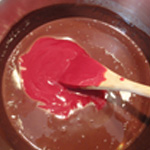 Add the coulis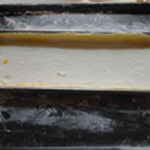 Cook in white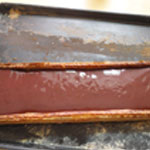 Pour the ganache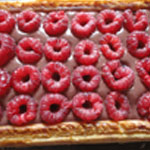 Raspberries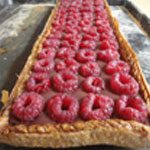 Pie to fill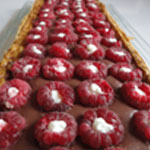 Ready<img src="/wp-content/uploads/2021/09/6128638920581778135.jpg" class="aligncenter"