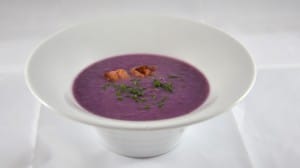 Recipe: Red cabbage soup
Red cabbage soup recipe, folklore at home with this purple soup, comments are going well, I like this moment when people taste, no more noise, I am waiting for the verdict. All of them unanimously loved it, so much the better I love these moments of compliments. Red cabbage soup, a soup that will not go unnoticed on your plate, you will love its color, you will love its taste. A vegetable soup whose color will delight children.
Recipe ingredients
Red cabbage soup recipe for 4 people:
600 g red cabbage
2 onions
2 fruit apples
2 potatoes
250 g of smoked bacon
2 liters of water
Instructions
Cut the smoked bacon into cubes.
Remove the first leaves from the red cabbage.
Remove the white section, to bring out the purple.
Cut the cabbage into strips, removing the white parts.
Peel the apple and potato, then cut them into cubes.
In a saucepan, sear the onion in the olive oil, then set aside.
Sear the smoked breast, then set aside.
Add the onion, brisket, apples and cabbage to the pot.
Salt and pepper
Cover with water and cook over low heat for 25 minutes.
Mix, taste and adjust the seasoning.
Preparation time: 20 minutes
Cooking time: 25 minutes
Number of people: 4
4 star rating: 1 review
What wine to drink with: Red cabbage soup
My favorite wine for this recipe: Cahors Cépage Cot noir, Merlot, Tanna
Temperature between 14 ° and 16 °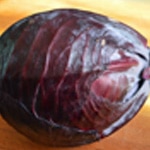 Remove the first leaves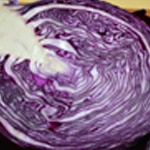 Slice in half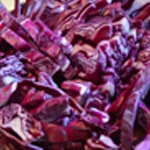 Slice into strips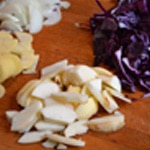 Mince the garlic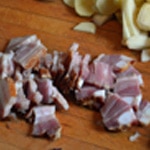 Cut the smoked breast
Slice the onion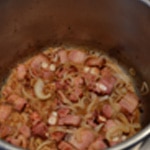 Grab the chest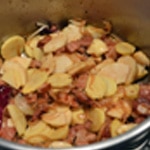 Add garlic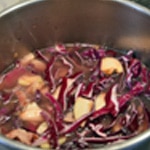 Wet the cabbage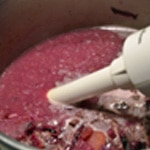 Mixer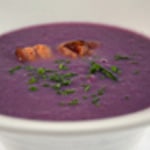 Zoom