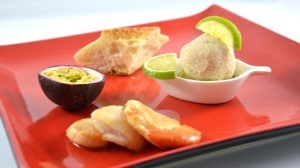 Recipe: Rilettes with St-Jacques
Recipe for rillettes with Saint-Jacques for a nice starter for the end of year celebrations or to start the meal, slightly flavored with red pepper from Séchouan. I like this kind of entry, a discovery recipe that will surprise your friends as an aperitif. I love homemade products where you play as you like with spices and flavors, here with these beautiful scallop rillettes slightly spiced up with a small clove of garlic, just squeezed at the end of the preparation.
Recipe ingredients
Rillettes with Saint-Jacques recipe for 8 people:
400 g scallops
200 g of cod
1 tablespoon of olive oil
1 tablespoon of mascarpone
25 g salted butter
3 tablespoons of dry white wine
1 small clove of garlic
1 teaspoon of Séchouan red pepper
Instructions
Heat a pan with olive oil.
Grill the cod
Rinse the scallops and dry them with food paper.
Cook a potato for 7 minutes in the microwave.
Crumble the cod as soon as it is cold.
Peel the potato then add it to the cod.
Mash with a fork to incorporate the potato.
Heat the pan with the salted butter.
Sear the scallops in the melted butter.
Pepper generously.
Deglaze the pan with the white wine.
Cook for 3 minutes.
Leave to cool for 1 hour in the fridge.
Crush the garlic clove and incorporate it into the rillettes.
Squeeze a few drops of lemon.
Add the mascarpone and stir.
Taste and adjust the seasoning, beware the lemon must be a hint, barely perceptible.
Loot the Sichouan red pepper and pepper the rillettes at the end.
Preparation time: 10 minutes
Cooking time: 10 minute (s)
Number of people: 8
4 star rating: 1 review
What wine to drink with: Rillettes au Saint Jacques
My favorite wine for this recipe: Chablis Cépage Chardonnay
Temperature between 08 ° and 10 °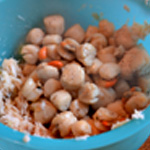 Scallop nut
Cook the nuts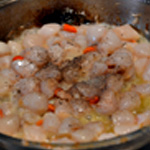 Spice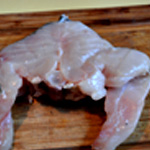 Cod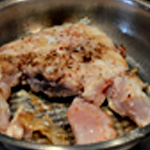 Cook the cod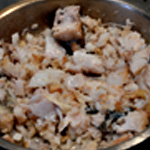 Crumble the cod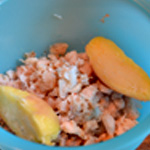 Add the potato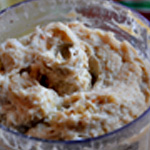 Mixer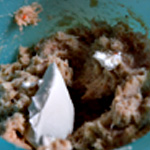 Add the mascarpone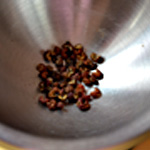 Plunder the Sechouan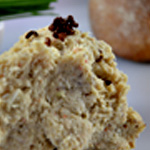 The rillette