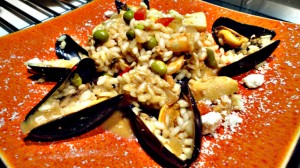 Recipe: Seafood risotto
Seafood risotto. I used frozen seafood for this recipe to make an unexpected arrival of friends. Rice recipe with seafood, ideal Arborio rice to make a real risotto, of course do not forget to add a touch of Parmesan, you do not have to stir it during its cooking, add the Parmesan at the end of cooking rice this way it will not burn. Italian risotto recipe, the kings of this typical dish. Easy-to-make seafood risotto your guests will love.
Recipe ingredients
Seafood risotto recipe for 4 people:
300 g of Arbario rice
200 g button mushrooms
300 g of squid
300 g assorted seafood
100g red peppers
1 onion
2 cloves garlic
10cl of olive oil
1 fish stock broth
1 teaspoon of paprika
Salt and pepper
Instructions
Clean the squid by removing the skin and bone, rinse them, cut them into small pieces.
Scrub the button mushrooms with a brush, then cut them into 4.
In a hot pan, brown the mushrooms for a few minutes with a spoonful of olive oil, then set aside.
Sauté the onion, pepper and garlic in the olive oil in the pan.
Cook the calamari in the pan.
Add the seafood, stir and simmer for 10 minutes.
Pour the rice into the pan with the seafood, brown it by mixing with a wooden spatula.
Cover with water, add a broth of fish stock and pour 1.5 times the amount of rice and cook for the time indicated
Cook the rice slowly, make sure there is no lack of liquid, salt and pepper.
Preparation time: 20 minutes
Cooking time: 17 minutes
Number of people: 4
4 star rating: 1 review
What wine to drink with: Seafood risotto
My favorite wine for this recipe: Châteauneuf du Pape, Grape variety: Grenache, Syrah, Mourvèdre
Temperature : between 16 ° and 18 °