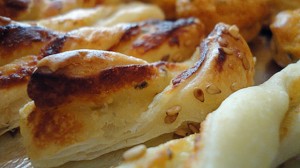 Recipe: Roquefort tortillons
Puff pastry with Roquefort to start a meal, this cheese puff is very flavorful. Roquefort puff pastry is an easy recipe to make, children love to turn the twists and give them different shapes. Served lukewarm, they won't last long during your aperitif, guests love all the warm and soft puffs. Roquefort puff pastry for the aperitif.
Recipe ingredients
Roquefort tortillons recipe for 46 tortillons
2 rolls of puff pastry
200g of roquefort
3 tablespoons of sour cream
1 tablespoon of sesame seed
1 egg yolk
Instructions
Roll out the puff pastry.
Melt the cheese in a saucepan with a large bottom.
Add the cream and let cool.
Cut the puff pastry in half and cover with the cheese mixture.
Cover with the other part of the puff pastry.
Roll a little to flatten the preparation.
With a brush, brush the egg yolk with a little water.
Sprinkle with sesame seeds.
Cut using a notched wheel to give the shape of your twists.
Turn your dough, holding both ends.
Place the twists on a baking sheet lined with parchment paper.
Bake at 200 ° rotating heat for 12 minutes.
Preparation time: 15 minutes
Cooking time: 12 minutes
Number of people: 46 twists
4 star rating: 1 review
What wine to drink with: Tortillons au Roquefort
My favorite wine for this recipe: Jura yellow wine Savagnin white grape, Chardonnay, Pinot blanc
Temperature between 15 ° and 16 °