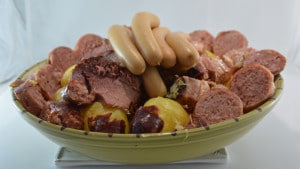 Recipe: Royal sauerkraut
Royal sauerkraut recipe here is the first of the year and is particularly appreciated. For my first sauerkraut of the year, I like to take my time at the table. I also like when we remove the lid of the cast iron casserole dish and the scents are scattered around the room, playing with our senses. A great desire comes to me then and nothing can stop me until I have tasted it. Hello there! Of course, if the choice of your cabbage is important, the choice of cold cuts is essential. Choose smokes from the upper Doubs which are very fragrant, they will flavor the sauerkraut and the potatoes during cooking. Do not forget in your sauerkraut the smoked but also fresh breast, why my sauerkraut is royal, it is above all royal in my heart and I had to share it with you.
Recipe ingredients
Recipe for 6 people:
0.600 g of fresh pork belly
6 knacks
600 g smoked pork belly
600 g of smoked pallet
1 Morteau sausage
1 Montbéliard sausage
2 kg of sauerkraut
16 small potatoes
3 onions
2 tablespoons of caraway
6 sprigs of thyme
6 bay leaves
15 juniper berries
2 tablespoons of duck fat
75 cl of blond beer (6 to 8 °)
Instructions
Peel and cut the onions into small pieces.
Rinse the sauerkraut in hot water and let it drain.
Heat the duck fat in the cast iron casserole dish, then throw in the onions and cook for 3 to 4 minutes.
Leave to cook so that they become translucent.
Mix the onions with the cabbage off the heat.
Add the caraway, juniper berries, thyme sprigs, bay leaves, mix well.
Remove half of the cabbage, arrange the meat on half of your sauerkraut.
Cover your meat with the rest of the cabbage.
Add the blond beer.
Place the potatoes on the cabbage and cook for 3 hours over very low heat, gently….
Preparation time: 30 minutes
Cooking time: 3 hour (s)
Number of people: 6
4 star rating: 1 review
What wine to drink with: Royal sauerkraut
My favorite wine for this recipe: A beautiful German style blond beer
Temperature between 07 ° and 10 °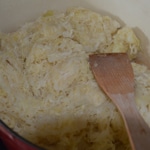 Blanch the sauerkraut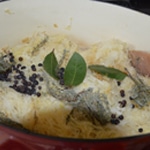 Add the herbs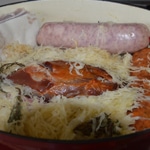 Add the meat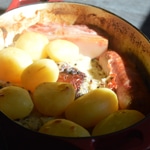 Store the potatoes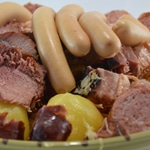 Zoom