Salmon aperitif recipe
Instructions
Salmon aperitif that will stand out during dinner aperitifs. Here is a salmon aperitif very easy to make, it will be taken in a few seconds, for a completely satisfactory result. Aperitif salmon puff pastry, I made it just with the pieces of the leftovers from another recipe. Cooked in ten minutes this salmon puff pastry will satisfy working housewives, a few seconds to prepare this salmon appetizer and hop in the oven for ten minutes. A salmon aperitif to be enjoyed warm, never cold. A nice appetizer salmon recipe ideal for a dinner aperitif.
Salmon aperitif recipe for 4 people
Ingredients
1 roll of puff pastry
100 gr of fresh salmon
1 egg yolk
1 teaspoon of chopped parsley
Salt and pepper
Instructions
Cut the salmon into small bite-size pieces.
Cut small squares or circles from the puff pastry.
Prick the center of your cuts with a fork.
Place a sprig of parsley in the center.
Place a piece of salmon.
Break the egg to collect the yolk.
Brush around the bite with yellow.
Season with salt and pepper.
Sprinkle with a few poppy seeds.
Place in a hot oven for 15 minutes.
Serve lukewarm but especially not cold.
Preparation time: 15 minutes
Cooking time: 15 minutes
Number of people: 4
4 star rating: 1 review
What wine to drink with: Salmon aperitif
My favorite wine for this Vouvray blanc recipe Grape variety: Chenin blanc
Temperature between 08 ° and 10 °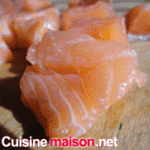 Salmon steak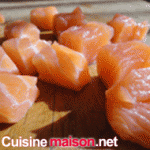 Cut the salmon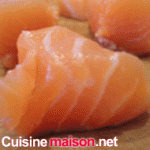 Zoom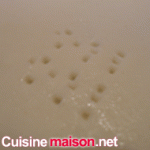 Prick the dough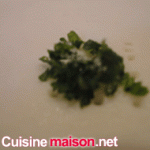 Parsley sprig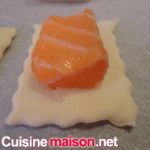 Cut the dough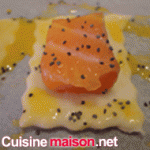 Egg and poppy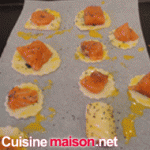 Pass in the oven