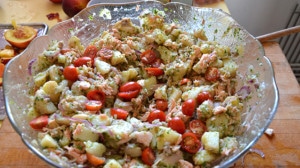 Recipe: Salmon salad
Salmon salad recipe with potatoes, spiced up with onions and parsley, we loved this very fresh salad. I like potato salads with a very generous fish, a beautiful gourmet salad barely spiced up. A complete meal with friends, the salmon salad. Salmon is a cheap fish with breeding, this allows us to enjoy it, be careful to spice up your salad.
Recipe ingredients
Salmon salad recipe for 12 people:
10 salmon steaks
1 kg of potatoes
500 g cherry tomatoes
2 cloves garlic
1 large onion.
4 shallots.
1 bunch of parsley.
4 tablespoons of olive oil.
1 tablespoon of sherry vinegar
Instructions
Bake the potatoes for 20 to 25 minutes, they should remain firm.
Let the potatoes cool, then peel them.
Place the salmon steaks on a baking sheet.
Cut the potatoes into cubes.
Season generously with salt and pepper.
Place in a hot oven at 200 ° for 11 minutes.
Let cool, then peel the salmon on the potatoes.
Rinse the parsley, then hull and finely chop with a knife, then add to the salad.
Peel the onion and shallots then finely chop and add to the salad.
Pour in the oil and vinegar.
Stir the potatoes well so that they soak up the sauce.
Preparation time: 20 minutes
Cooking time: 11 minutes
Number of people: 12
4 star rating: 1 review
What wine to drink with: Salmon salad
My favorite wine for this recipe: Val de Loire Savennière Grape variety Chenin blanc
Temperature between 08 ° and 10 °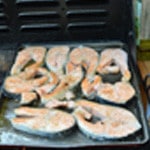 Bake the pavers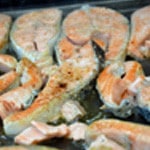 Zoom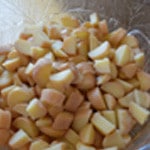 Bake the potatoes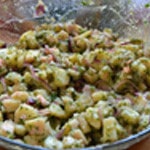 Mix with the herbs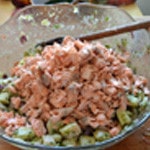 Add the salmon