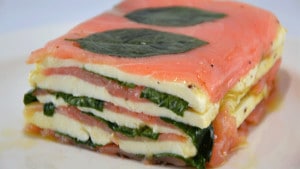 Recipe: Salmon terrine with mozzarella
Salmon terrine with mozzarella, ideal during hot weather, this terrine salmon will delight your guests with its beautiful summer colors and its freshness. Perfumed with salmon and basil, here Séchouan pepper in all its place, without being spicy, it perfumes this terrine perfectly. Basil and olive oil bring the color of the south and the sun. Everyone was won over, I was just a little afraid that it would decompose when you unmold it, but be careful with this salmon in a mozzarella terrine. But it is also ideal for a meal in the evening with a beautiful green salad from the garden… ..
Recipe ingredients
Salmon terrine with mozzarella recipe for 6 people:
260 gr of smoked salmon
250 gr of drained mozzarella
30 basil leaves
6 tablespoons of olive oil
2 tablespoons of lime juice
1 teaspoon of freshly crushed Sechuan pepper
Instructions
Mix the oil with the lemon.
Thinly slice the mozzarella.
Film the bottom of your terrine twice, letting the film protrude.
Place 3 basil leaves at the bottom of the terrine
Add a layer of smoked salmon.
Brush the salmon with a brush with the lemon oil.
Place the basil leaves then the mozzarella, sprinkle with pepper.
Brush the salmon with a brush with the lemon oil.
Then start again with all the ingredients, keeping the established order.
Pass in refrigerator at least 3 hours, but better overnight.
Unmould before serving and slice generously.
Preparation time: 15 minutes
Cooking time: 0 minutes
Number of people: 6
4 star rating: 1 review
What wine to drink with: Salmon terrine with mozzarella
My favorite wine for this recipe: Riesling Grape Riesling
Temperature between 08 ° and 10 °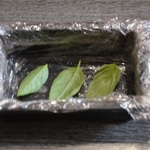 Place the basil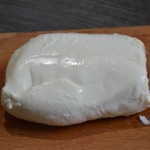 Slice the mozzarella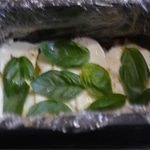 Lay basil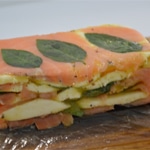 Ready to be tasted
Zoom